I received a copy of Sofia the First: The Enchanted Feast to facilitate this review. All thoughts and opinions are my own.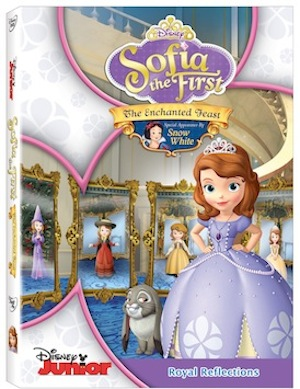 On Aug. 5, Disney released the fun and magical DVD,  Sofia the First: The Enchanted Feast.
When all of the monarchs from kingdoms around Enchancia come for a visit, they plan on seeing an amazing display of magic.
Cedric is scheduled to create a magical feast and turn the banquet hall into an amazing display full of morpho-mirrors.
However, Miss Nettle, a well-known wicked fairy, has other plans for the magical feast. She wears a disguise and pretends to be Sascha the Sorceress.
Her main goal is to steal Sofia's magical amulet and become the most powerful person in the world.
None of the guests suspect that Sascha is really Miss Nettle. The King even makes Sascha a special guest at the feast.
Sofia begins to realize that something is not quite right about Sascha. However, she has trouble trusting her instincts about the newly arrived guest.
Just in time, Sofia's amulet calls forth Snow White for a visit. Snow White encourages Sofia to always trust her own feelings.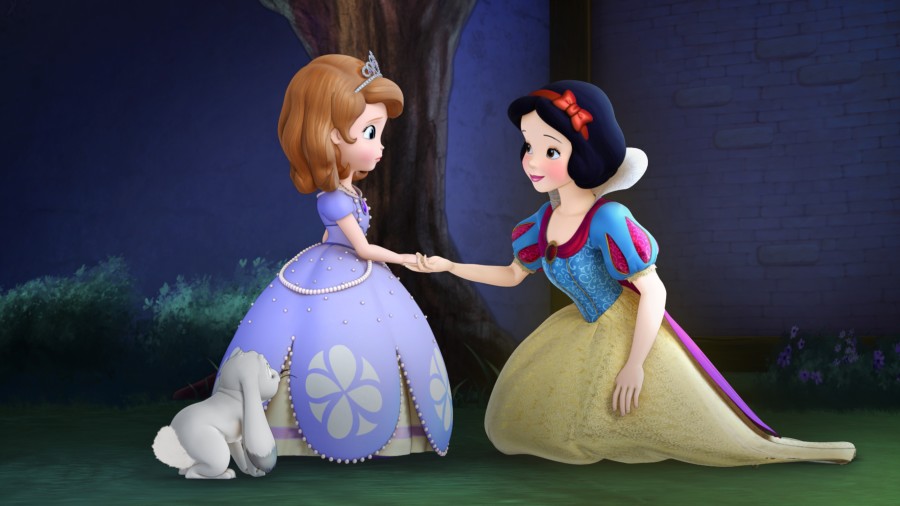 When Miss Nettle traps everyone in the banquet hall, Sofia summons the courage to do something about it. She encourages her friends to work together to stop Miss Nettle.
This magical adventure is full of fun characters, magical tricks and plenty of adventure.
Here is a clip of Snow White and Sofia from this DVD:
My daughter loves Sofia the First episodes because they are full of magical adventures. She really enjoyed Sofia the First: The Magical Feast. She has already watched this DVD several times. It is currently her favorite. She loved watching Snow White make an appearance in one of her favorite cartoons.
Sofia the First: The Enchanted Feast DVD Episodes:
The Enchanted Feast
The Buttercups
Tea For Too Many
Great Aunt-Venture
Two Princesses And A Baby
This DVD also features a very special addition, a free enchanted hand mirror! It is a really cute, plastic mirror, perfect to go along with this magical tale.
My daughter loves to hold the mirror while watching Sofia the First: The Enchanted Feast.
This Disney DVD features 110 minutes of content and is available now.