Check out this easy recipe for S'mores Popcorn Balls. They are the most amazing treat ever!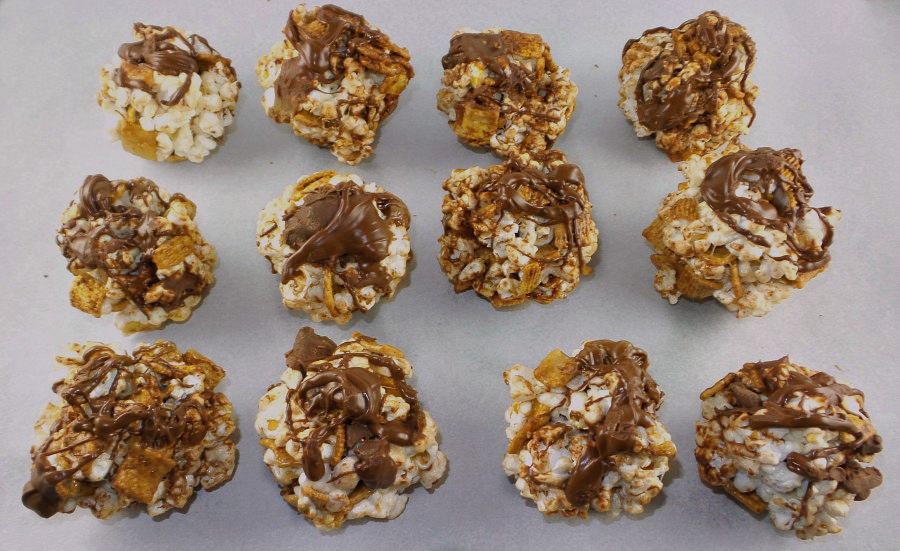 I love popcorn. I can eat it plain, with toppings or pretty much any way.  It is one of my very favorite snacks.
When I was in elementary school, I had my very first popcorn ball at a bake sale. I thought it was one of the most amazing treats Id ever tasted. From that day forward, I was hooked.
Since I love s'mores, I decided to combine them with popcorn balls. The result is an incredible treat. Seriously, I bet you can't eat just one. They are the perfect combination of flavors and textures.
I used popcorn, Golden Grahams cereal, chocolate and a delicious buttery marshmallow mixture to create these decadent treats. Each popcorn ball has the flavor of s'mores.
S'mores Popcorn Balls Recipe
S'mores Popcorn Balls
Ingredients
½ cup butter
40 marshmallows
12 cups popcorn
2 cups Golden Grahams
6 bars of chocolate
1 Tbsp. butter
1 piece of wax paper
Instructions
Melt the butter on low heat.
Add the marshmallows.
Cook and stir over medium heat until the marshmallows are melted.
Place 12 cups of popcorn in a bowl with the 2 cups of Golden Grahams.
Break up 2 bars of chocolate.
Add the chocolate pieces to the cereal and Golden Graham mixture.
Add the melted marshmallow mixture to the popcorn, chocolate and cereal mixture. (It is OK if the chocolate melts.
Stir to combine.
Butter your hands and form popcorn balls. (Be careful, this mixture can be hot.)
Place the balls on wax paper.
On low heat, microwave the remaining bars of chocolate.
Once melted, drizzle chocolate on top of the popcorn balls.
I took a short cut with this recipe. Instead of using a hot air popper, I made microwave popcorn. It made things so much easier.
Since I didn't want anything with a very heavy butter flavor, I used Orville Redenbacher's Simply Salted microwave popcorn. This popcorn added a tiny bit of saltiness to the s'mores popcorn balls. It worked out great!
These popcorn balls will not disappoint. I bet they would be a hit at your next bake sale.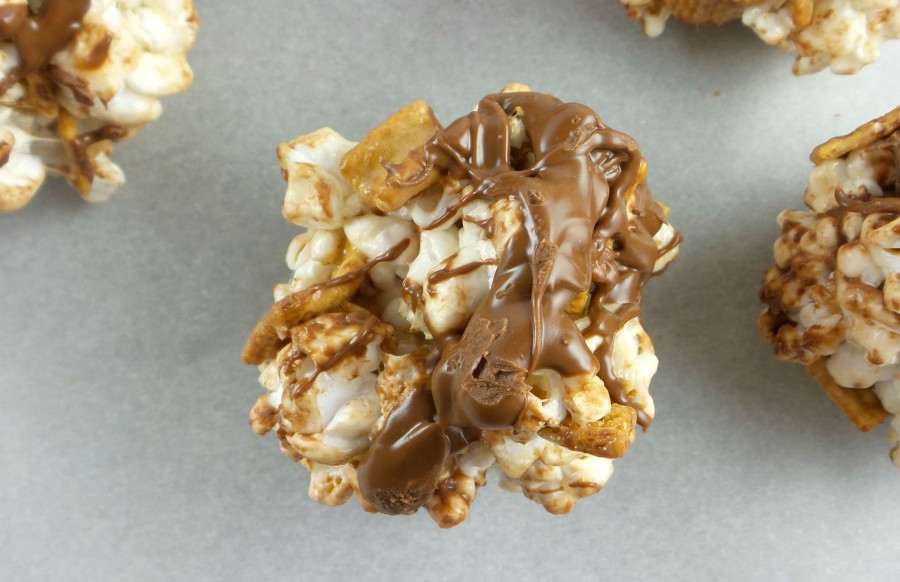 I hope you enjoy these amazing s'mores popcorn balls. For more popcorn recipes, check out: