If you follow my site, you know that I love to decorate chandeliers. I think they are a very underused decorating surface.
Since I also love to decorate for any holiday, I decided to hang decorations from my chandelier for Easter.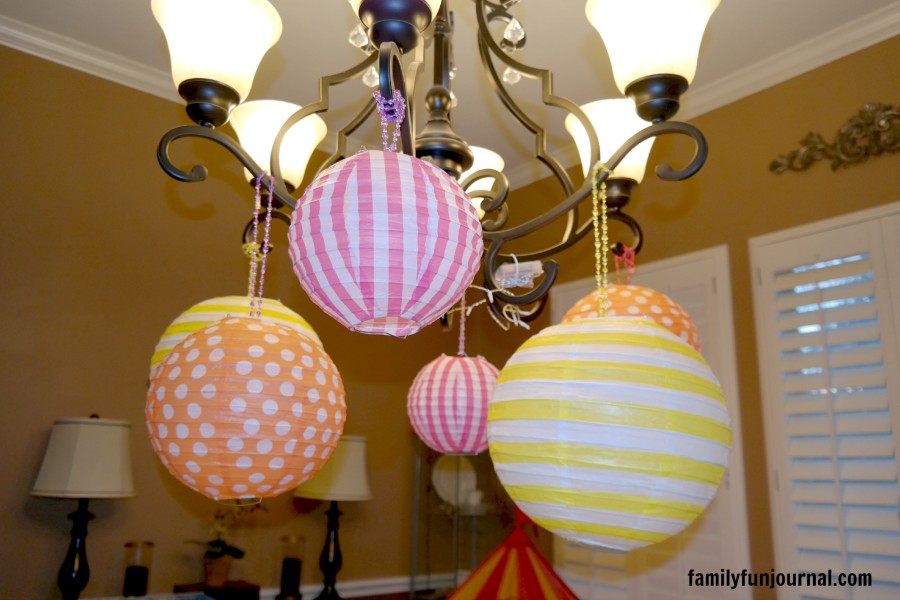 I wanted to decorate my dining room for Easter and do something a little different than the egg Easter light fixture decorations I did last year.
I was immediately inspired when I came across these brightly colored paper lanterns at Target. I found them in the clearance section and got them for an awesome price!
I love the lanterns because their pretty colors make them the perfect Easter or general spring decoration.
Target sells a variety of paper lanterns in their party supply section. So, if you cant find these on clearance, you can find other lantern options.
I put the lanterns together and wanted to hang them from the chandelier with something a little more exciting than string or ribbon.
If you have a daughter, I'm sure she has a ton of plastic beaded necklaces. My daughter has quite an extensive collection. I still cant figure out how we accumulated so many in such a wide variety of colors. I can usually find them tangled in a massive ball in her jewelry box. If you think untangling Christmas lights is a challenge, you have never faced the ball of plastic beaded necklaces. Seriously, I almost gave up a few times.
Anyway, I looped the necklaces through the hooks on the lanterns. I decided to hang the lanterns at varying lengths to create a more layered look. Plus, I wanted all of the lanterns to be visible from different angles.
The lanterns are so cute! My daughter thinks they are really fun. I'm amazed at how they transform the atmosphere of my dining room.