Now that school is back in session, you must be in the business of making after school snacks. If you need a little inspiration, check out this roundup of after school snacks. From dips to baked snacks, this list has something for everyone.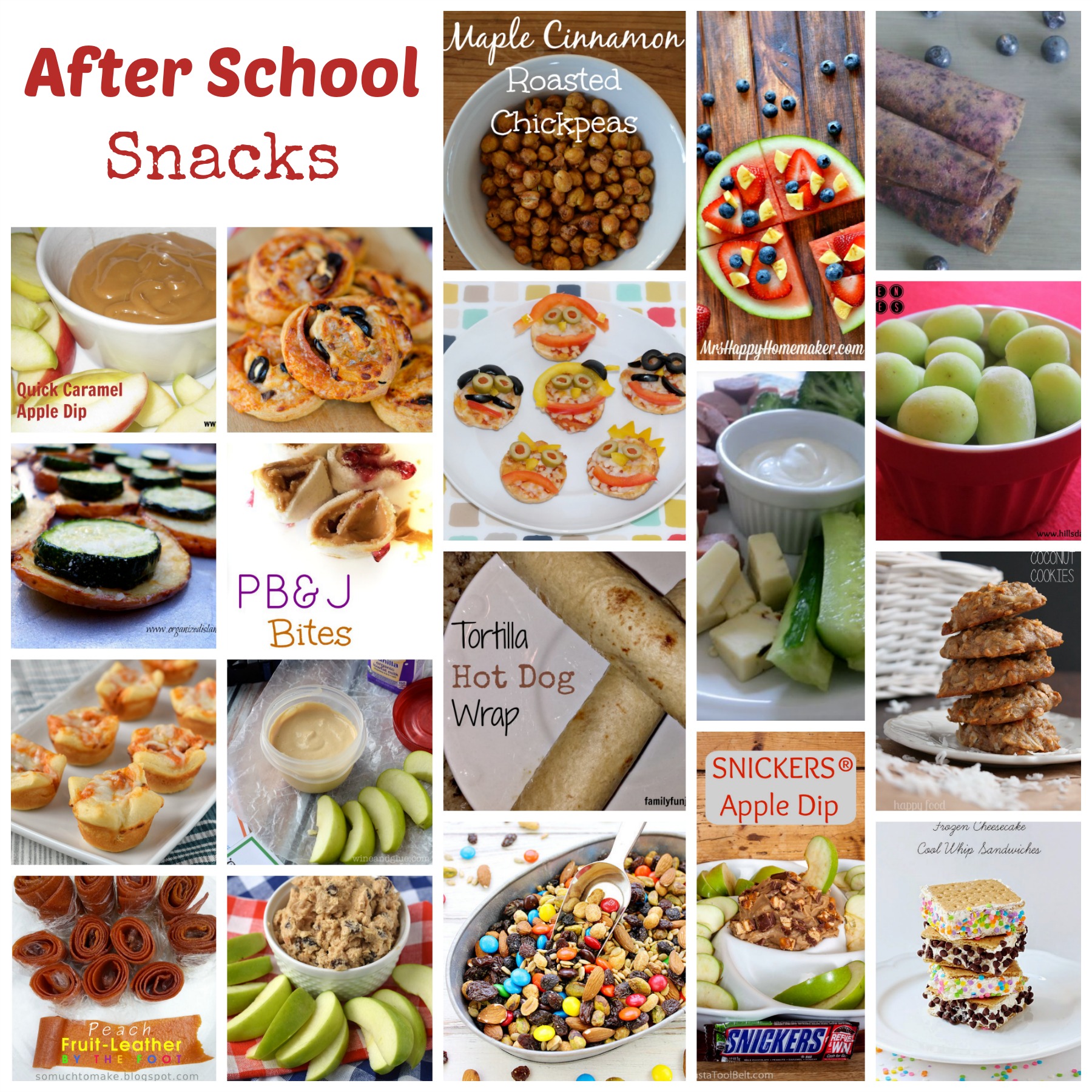 After School Snacks
Luv A Bargain created delicious maple cinnamon roasted chickpeas. She wrote that these taste just like cereal. I think most kids would enjoy this fun snack.
Mrs. Happy Homemaker came up with this amazing idea for fruit pizza. This is definitely a super fun after school snack idea.
The Frugal Farm Wife created homemade blueberry banana fruit leather. This sounds like a great flavor combination.
I created this quick caramel apple dip. This dip is so delicious and your kids will love eating it after school.
A Night Owl Blog made these fun loaded pizza pinwheels. She used refrigerated crescent rolls to make this snack.
I made these fun after school snacks using Bagel Bites. Your kids will have a blast creating these funny faces.
Women Living Well created this great tid bit tray. I know my daughter would really enjoy choosing the vegetables for this fun after school snack.
I made frozen grapes, a favorite snack in our house. This is probably one of the easiest snacks to prepare.
Organized Island made delicious looking zucchini stacks. These look really fun to eat.
Moms Confession made these creative PB&J Bites. I know these would be a huge hit in my house.
I made tortilla hot dog wraps. These are such a great snack or lunch item. It is a cool new way to eat a hot dog.
I love cookies, especially healthy ones. Happy Food Healthy Life created healthy coconut cookies. These look like a great after school snack.
Wine and Glue made super fun pepperoni pizza cups. This is such a creative way to enjoy pizza.
Wine and Glue also made healthy peanut butter dip. I love peanut butter and cant wait to try this dip.
So Much To Make made peach fruit leather. I love the idea of making fruit leather instead of buying it.
Wine and Glue also made oatmeal raisin cookie dough dip. I love oatmeal cookies and cant wait to try this creative recipe.
Love Bakes Good Cakes made sweet and salty trail mix. I really like the idea of combining sweet and salty in a fun to eat trail mix.
Love, Pasta and a Tool Belt made Snickers apple dip. This dip looks amazing!
Couponing and Cooking made frozen cheesecake cool whip sandwiches. These look like a spectacular after school snack!
I hope youve been inspired to create fun after school snacks for your kids!
If I've featured your recipe from the Life of the Party Link Up, visit this featured page to grab your button!