This post is brought to you by Favado. All thoughts and opinions are my own.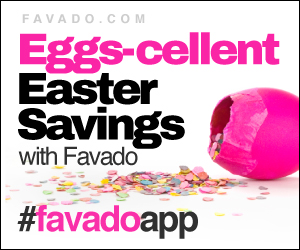 I'm a busy mom who doesn't have a lot of time to spend perusing all of the grocery store advertisements to determine which store has the best prices. I am super excited that there is an app that can do this all of this for me.
Favado is a grocery app that shows you the sales at your local grocery stores. You can get big savings by comparing prices and getting coupons. How cool is that?
This Easter, why not use Favado to get great deals on everything you need for your holiday meal? You can get the best prices on everything from ham to candy.
For my holiday meal, I usually have ham, rolls, a potato side dish and a dessert. You can use Favado to find all of these items and so much more! You can simply use the app, do your research and head out to your chosen store. You no longer have to run from store to store to find the best deal.
Download the Favado app today to get big savings on your Easter basket fillers and all of your other holiday meal items.
Here is an amazing printable that will help you plan an Easter meal that your friends and family will enjoy. If you need meal inspiration or want to try something new, check out this printable.
This printable includes a compilation of delicious recipes and the grocery list to go along with it. There are recipes for baked ham with pineapple glaze, au gratin potatoes, bacon wrapped asparagus with feta, potato rolls and chocolate raspberry brownies.
To access the printable, simply click on the below image. You will be taken to a PDF file. Just print it out and you are ready to go.