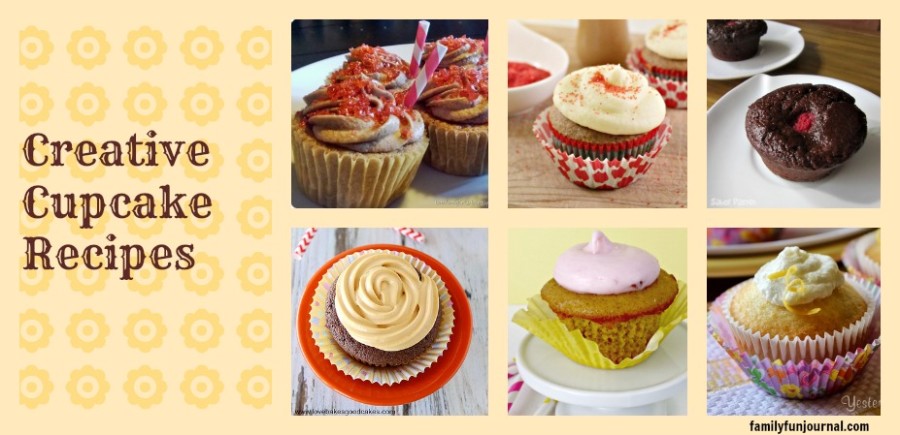 Who doesn't love an amazing cupcake? To me, a cupcake is the perfect dessert. I love that you can easily eat a cupcake without a fork. Plus, I'll pretty much eat any food that is covered in frosting.
Here is a roundup of creative cupcakes. These cupcakes aren't just your ordinary, every day frosting topped mini cakes. These recipes offer something a little different.
All of these reicpes are from Life of the Party Link Ups. If you want to join us, simply stop back by at 7 p.m. central to link up your creations.
The root beer float cupcakes from Lou Lou Girls almost look too pretty to eat. I love this idea. A root beer float is so much fun to drink. I can imagine eating a cupcake root beer float would be even more enjoyable. She even topped the cute cupcakes with root beer barrel candy!
Believe it or not, these next cupcakes aren't totally made from scratch. The cinnamon semi-homemade cupcakes from the NY Melrose Mom look adorable. These spice mix cupcakes are topped with a delicious butter cream frosting. There is a secret ingredient in the frosting…one that surprised even me! You will have to head on over to her site to check it out.
This next recipe isn't technically for a cupcake. However, I wanted to offer it as a healthy option in my little round up. The skinny chocolate raspberry muffins from Sabor Pastel look amazing. These yummy chocolate muffins have a raspberry center. I could easily eat these for dessert.
The Mexican chocolate cupcakes with dulce de leche cream cheese frosting sound like an award winning flavor combination. Plus, her recipe includes coffee. I'm already a fan! Love Bakes Good Cakes always has the most amazing recipes. You should really check out her site.
The banana cupcakes with strawberry mascarpone frosting  from Juggling Act Mama are perfect for Easter. I love the color of the strawberry mascarpone frosting. These would be a great way to get your kids to eat a serving or two of fruit.
The old fashioned lemon cupcakes from Yesterfood look so refreshing. These cupcakes feature a lemon filling and are topped with lemon frosting. These would make a great spring treat.
That's it for my roundup. I hope you enjoy these creative cupcakes. I dont know about you, but I'm hungry…for a cupcake.