My daughter is in the "I want to do it by myself" phase. Since she is only four, there are only so many things I can let her do on her own. For a while now, she has been asking to make a cake. I figured that cake decorating would be a great project she could complete "on her own."
Here is what we did to make this cool pumpkin Bundt cake. I assembled the pumpkin by putting frosting between two Bundt cakes.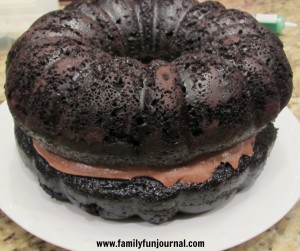 My daughter helped me color the frosting. Then, I let her ice the cake by herself. She is so proud that she made a cake on her own. She had so much fun decorating this cake. I hope your kids enjoy it!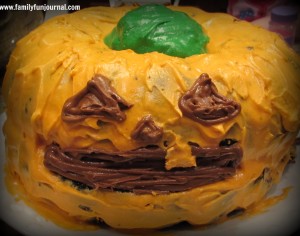 Pumpkin Cake For Kids
Pumpkin Cake For Kids
Ingredients
2 bundt cakes (prepare two box cakes according to instructions)
Orange frosting
Green frosting
Chocolate frosting
Instructions
Make two Bundt cakes.
Once cooled, turn one Bundt cake upside down and frost the flat side.
Top with the other Bundt cake.
Frost the cake with orange frosting.
Fill the top hole with green frosting for a pumpkin stem.
Use chocolate frosting or brown frosting for the face.