I was provided with a copy of Pound Puppies: A Perfect Match to facilitate this review. All thoughts and opinions are my own.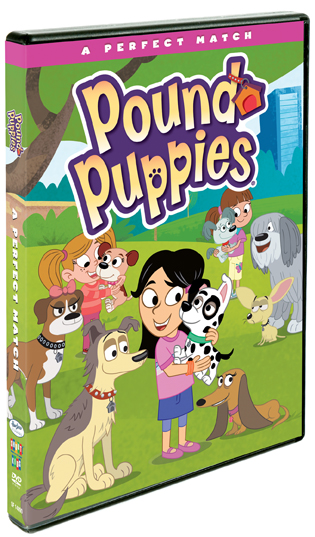 Starting April 8, 2014, Pound Puppies: A Perfect Match, will be available on DVD. If your kids are anything like my daughter, they will love this fun team of brave dogs.
Not only does this cartoon feature bright colors and fun characters, this series is the 2012 winner of the Humanitas Prize in Children's Animation.
In case you don't know about the Pound Puppies, let me fill you in. They are a team of courageous dogs who have the sworn mission of finding homes for the lonely dogs at Shelter 17.
These lovable characters are dedicated to making sure all of the dogs find nice homes with the right people. They do all of this work behind the scenes without the humans working at the shelter taking notice. Their motto is "A pup for every person and a person for every pup."
The adventures featured in this DVD, focus on Lucky, Cookie, Niblet, Strudel and Squirt working hard to find the right person for every puppy. I love the names of these characters. They couldn't be more adorable!
My daughter loves the secret hideout of the Pound Puppies. She also likes the fun characters and their personalities. Plus, she loved that these dogs were somewhat like super heroes.
This disc features episodes focusing on  finding a home for a so-called "unmatchable puppy," help a shy puppy on a camping trip, help a furless pup gain confidence and investigating why a paper girl's deliveries are never on time.
This DVD includes the following episodes:
The Yipper Caper
Working K-9 to 5
Hello Kitten
Beauty is Only Fur Deep
No More S'Mores
Pound Puppies is currently on the HUB network and stars the voice talent of Eric McCormack, Yvette Nicole Brown, Michael Rapaport, John DiMaggio, Alanna Ubach, René Auberjonois, and M. Emmet Walsh. The DVD is by Shout! Kids Factory and Hasbro Studios.