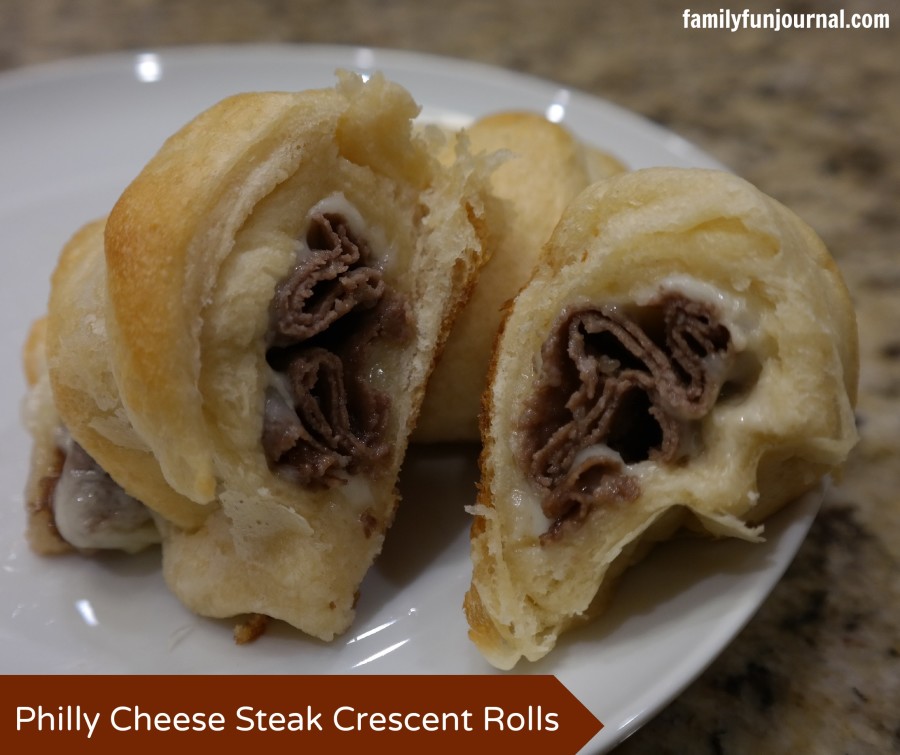 I've pretty much figured out that you can put anything inside a Pillsbury crescent roll and it will taste amazing! It was no surprise, when I decided to combine Steak-Umms and crescent rolls, I ended up with a delicious little appetizer that my family loves to eat.
This is really easy to put together. It took me about 10 minutes of prep time to cook the Steak-Umms and prepare the crescent rolls. My daughter helped me layer the ingredients inside each crescent roll. She had so much fun rolling the dough to form the crescent shapes.
I know a lot of people prefer to eat their Philly cheese steaks with American or cheddar cheese. I've always preferred mozzarella or provolone. These would be great with any kind of cheese.
You could easily add onions or mushrooms to these rolls. Just saute the onions and mushrooms in a pan with about 1 tsp. of butter. Add this mixture to the meat and cheese before you bake the crescent rolls.
Philly Cheesesteak Crescent Rolls
Philly Cheese Steak Crescent Rolls
Ingredients
1 package of Steak-Umms
1 can of Pillsbury Crescent Rolls
4 slices of provolone cheese (or whatever cheese you prefer)
Instructions
Preheat oven to 375 degrees.
Cook the package of Steak-Umms thoroughly according to package instructions. Set aside.
Cut each piece of cheese in half.
On a cookie sheet, unroll each crescent roll.
Layer a piece of cheese and Steak-Umm inside each triangle.
Roll the crescent rolls according to the package instructions.
Bake for 10-12 minutes.
Serve immediately.
You can serve these with a variety of dipping sauces like ketchup, hot sauce or even a spicy mayonnaise.
This is a great appetizer recipe. You can make these pretty quickly and without a whole lot of effort. You can easily double or triple this recipe to feed a large crowd.
If you make these ahead of time, I would suggest storing the baked crescent rolls in the refrigerator. Heat them in the oven at 375 degrees for about five minutes.
For an event, I would suggest offering a wide variety of dipping sauces like mustards, ketchup, barbecue sauce, hot sauce and buffalo sauce. The sauces would make this appetizer even more fun for your guests.
I hope your family enjoys these Philly cheese steak crescent rolls.
If you like this Philly cheese steak crescent rolls, check out this recipe for crock pot spicy french dips. They are really delicious and super easy to make in your crock pot.