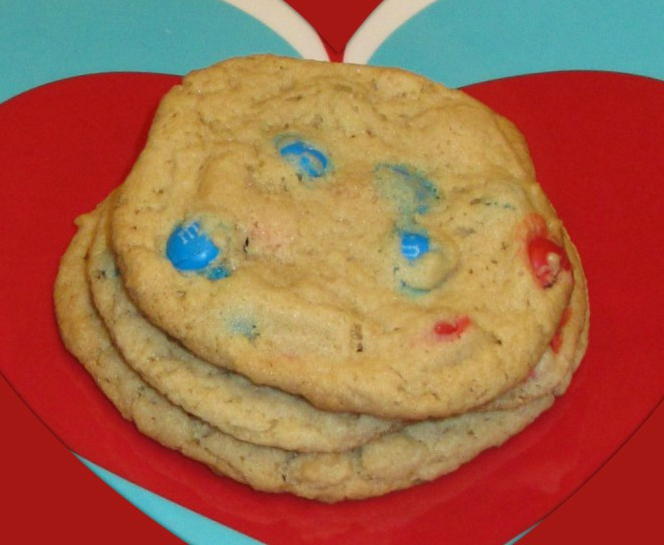 If you haven't tried a Bisquick cookies, you are really missing out. The first time I made chocolate chip cookies with Bisquick, my family couldn't get enough of them. Seriously, they are really, really good. You will be pleasantly surprised by these super delicious Bisquick cookies.
For this patriotic version, I used a recipe for Bisquick cookies. It is a very easy recipe. It utilizes one of my favorite products-Heart Smart Bisquick. I adapted this recipe from Betty Crocker.
These cookies are so simple to create. I love that you don't need baking soda or baking powder. So, as long as you have Bisquick, you can whip up a batch of these cookies. Isn't that so convenient?
To create the patriotic look, I used red and blue mini M&Ms. You could use full sized M&Ms if that is your preference. I just prefer the smaller pieces of chocolate throughout my Bisquick cookies.
I couldn't find a bag of red, white and blue mini M&M's, so I bought a large bag of the original M&Ms. I then spent a couple of minutes pulling out the red and blue candies. My daughter had fun helping me with this part of the recipe!
You will be very surprised by the amazing taste of these cookies. Not only do they look great, they taste amazing.
This cookie is a little crunchy and somewhat chewy. It has the perfect texture as far as cookies go.
 Patriotic Bisquick Cookies Recipe
Patriotic Bisquick Cookies
Ingredients
½ cup butter, softened
1 cup packed brown sugar
½ teaspoon vanilla
1 egg
2 cups Heart Smart Bisquick
¼ tsp salt
½ cup of patriotic colored M&Ms
Instructions
Preheat oven to 350.
Beat butter and brown sugar until thoroughly incorporated.
Add vanilla, egg and salt.
Add Bisquick.
Mix until thoroughly combined.
Stir in the M&Ms.
Drop spoonfuls on an ungreased cookie sheet.
Bake for 8-10 minutes