#paddington #movienight #paddingtonmovie
I was thrilled to partner with BSM Media and Stars for this Paddington-themed fruit dip post. All thoughts and opinions are my own.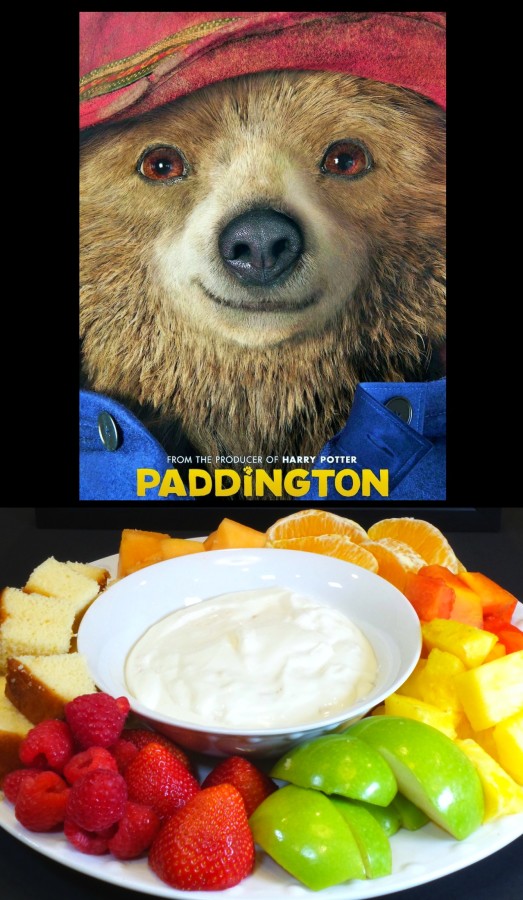 In celebration of the April 17 digital release of Paddington, we are hosting a fun movie night with family and friends.
Did you know that you can watch Paddington 11 days before you can buy it in stores? How cool is that?
Paddington is available to download in Digital HD on iTunes, Amazon Instant Video, Verizon Fios and Comcast–.
We are super excited about having this special Paddington event. Not only do we love to watch movies, but we are huge Paddington fans.
In case you aren't familiar with Paddington, let me fill you in. Paddington is a classic character created by Michael Bond. He is an adorable bear that goes on the adventure of a lifetime. Along the way, he has some pretty funny experiences.
Paddington is memorable for many reasons. However, he is probably most well known for his favorite food obsession with a certain sticky orange substance.
The lovable bear cannot get enough orange marmalade. He even makes orange marmalade sandwiches! Seriously, just two pieces of bread filled with a layer of orange marmalade. Can you imagine?
Because Paddington loves orange marmalade, I used it as a key ingredient in creating an incredible fruit dip. This platter of fruit, arranged around this insanely good dip, is the perfect movie watching treat. I think Paddington would approve.
Paddington's Orange Marmalade Fruit Dip
Paddington's Orange Marmalade Fruit Dip
Ingredients
1 package of cream cheese
1 cup of marshmallow fluff
1 Tbsp. orange marmalade
¼ tsp. vanilla extract
Instructions
Leave the cream cheese on the counter for about 10 minutes.
Put it in a mixer and beat for 2 minutes.
Add the marshmallow fluff, marmalade and vanilla.
Beat until thoroughly incorporated for 1-2 minutes.
Serve with fruit.
Im serving this dip with a variety of  fruit (apples, papaya, pineapple, cantaloupe, strawberries and raspberries). For even more fun, I cut up pound cake into cubes.
This dip is so delicious. It tastes like a fluffy marshmallow cheesecake with a hint of orange marmalade. I hope your family and friends love it.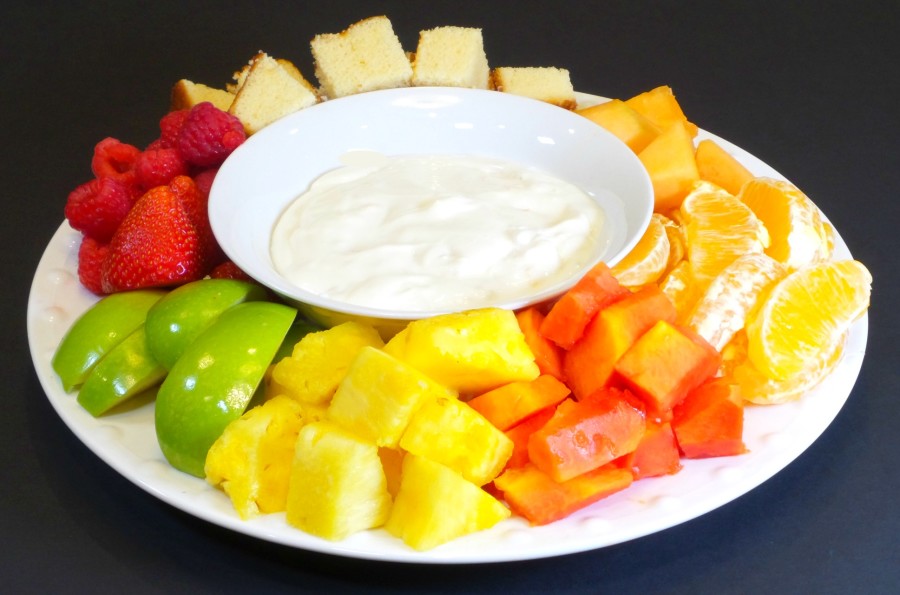 Check out your YouTube video detailing how we made this delicious fruit dip.
For even more activities and ideas, visit
Paddington Parties
. Also, on April 17, join us for a super fun #Paddington Twitter party at 7 p.m. central. This event will feature great prizes like Paddington themed packs full of amazing goodies for your family!
In case you haven't seen the film (and I encourage you to do so), here are the basics:
Paddington is the live-action film about a young talking bear (voiced by Ben Whishaw). He finds himself lost and alone in an overwhelmingly big city until he meets the Brown family. After many funny misadventures, Paddington must convince the Brown family that he belongs with them, while avoiding a museum taxidermist (Oscar®-winner Nicole Kidman) who's got her eyes on him.
Co-starring Michael Gambon (Harry Potter franchise), Academy Award®-nominee Sally Hawkins (BLUE JASMINE), Oscar®-nominee Julie Walters (Brave), Hugh Bonneville (TV's Downton Abbey), Academy Award®-winner Peter Capaldi (TV's Doctor Who), Oscar®-winner Jim Broadbent (Cloud Atlas), and Academy Award®-nominee Imelda Staunton (Maleficent). The film is directed by David Heyman (Harry Potter franchise).