I received The Odd Squad Creature Encounters DVD to facilitate this review. All thoughts and opinions are my own.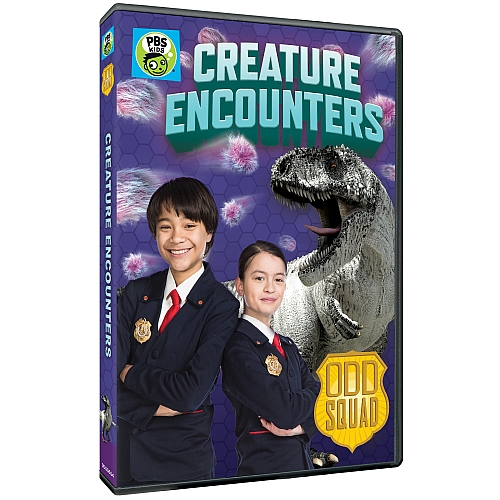 My daughter loves the Odd Squad. It is one of her most favorite shows. She loves to watch the agents solve mysteries and overcome challenges. Whenever she watches it, I can hear her solving mysteries along with the agents.
I have to admit, as a parent, this is one kids show I don't mind watching on TV. I find it incredibly entertaining. It is also full of all kinds of educational information.
Geared toward ages 5-8, the Odd Squad is a live-action show about a team of government agents who use math to conduct investigations. They often find themselves in all sorts of funny situations. The agents even have their own headquarters, which is packed with gadgets and gizmos.
In Creature Encounters, you can watch as they deal with bizarre scenarios and really weird creatures. Agents Olive and Otto interrogate a mummy, a unicorn and a robot. They work to find a weapon that can overcome the Hydraclops. They even go back in time to prevent dinosaurs from destroying the Odd Squad headquarters.
Odd Squad Creature Encounters Episodes:
6:00 to 6:05
How to interrogate a unicorn
The trouble with centigurps
Rise of the hydroclops
Robert Plant
This DVD is a ton of fun. I encourage you to watch it with your kids. You'll be surprised how entertaining these shows are for the entire family.
The Odd Squad is created by Tim McKeon and Adam Peltzman and produced by Sinking Ship Entertainment and The Fred Rogers Company. The show airs every day on PBS KIDS (check local listings).