I received the books/magazine mentioned in this post to facilitate this review. All thoughts and opinions are my own.
Do you have a difficult time finding the right gift for your child? As a Mom, I love to find gifts that are entertaining and educational.
Recently, I received three National Geographic Kids items that I can enthusiastically recommend as gift options.
National Geographic Kids Gift Ideas
How To Survive Anything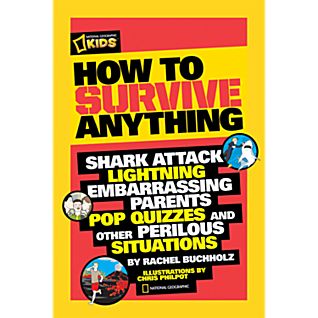 This book is so entertaining. It is a hilarious take on surviving just about anything life can throw at you.
While this book is geared toward children, adults will also love it. I enjoy reading it with my daughter. We think it is so great. When my husband saw this book, he picked it up and read it too. We just love it.
I love that it blends humor with interesting, educational information. The illustrations are also a lot of fun.
This book is broken up into sections including:
How to survive natural disasters
How to survive predators
How to survive unchartered territory
My favorite chapter is about surviving your most embarrassing moment. (If only I had this book as a kid….) It features all sorts of helpful tips and encouragement to help kids get through an embarrassment.
My daughter's favorite section of the book is how to survive predators. Not only does this chapter tell you how to deal with intimidating animals, it also offers facts about each type of predator.
To find out more about How to Survive Anything, visit National Geographic.
Book of Nature Poetry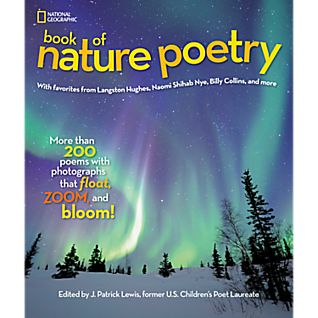 The Book of Nature Poetry is a big hardback edition. If you think your child might not be interested in poetry, I want to encourage you to try this book anyway.
This book makes poetry fun and exciting. Former U.S. Children's Poet Laureate J. Patrick Lewis edited this book. It is full of more than 200 nature poems.
I love this book because it features classic poets, like Robert Frost, and contemporary poets like Billy Collins. It also includes poems that have never been published.
This book is broken into sections that cover different topics, including:
The Wonder of Nature
In the Sky
In the sea
On the Move
Across the Land
In Shade
In Distress
In Season
In Splendor
This book features beautiful, stunning photographs that match each poem. It is incredible.
My daughter loves this book. While she loves enjoys all of the images, she really is impressed with the photographs of flowers. They are so bright and vivid. The fact that the book also features amazing poetry seems like an added bonus.
Visit National Geographic for more information about Book of Nature Poetry.
National Geographic Kids Magazine Subscription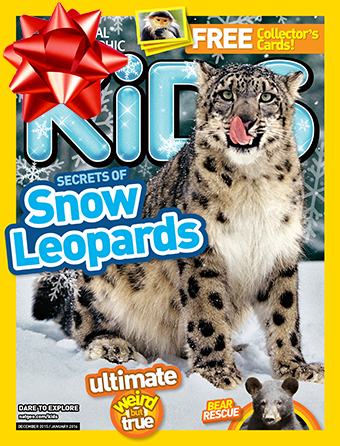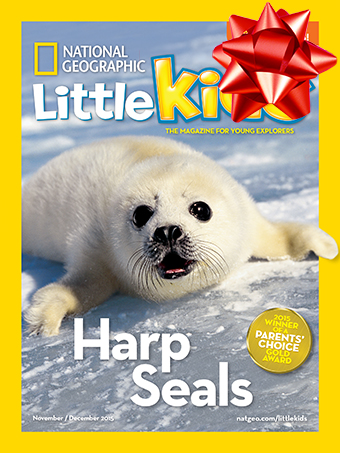 The National Geographic Kids Magazines are a really great gift option. Each month, your child will receive an engaging magazine that features all kinds of facts and fun features.
I love that this one gift gives your child a new magazine every month.
Not only do the magazines teach your children to learn about science, geography and wildlife, they will encourage their sense of adventure.
There are two magazines based on your child's age group. National Geographic Kids is geared toward ages 6-12. National Geographic Little Kids is appropriate for children ages 3-6.
National Geographic Kids Magazine Subscription Giveaway
Thanks to National Geographic Kids, I'm so excited to announce that I'm giving away a subscription to one of the magazines. The winner gets to choose whether he/she wants a subscription to the kids or little kids magazine.
Terms & Conditions
Family Fun Journal is hosting this giveaway on behalf of National Geographic Kids. Facebook, Twitter, Instagram and Pinterest in no way sponsor or endorse this giveaway.
By clicking the green "I did this!" buttons you are confirming that you completed these entries and give Family Fun Journal permission to contact you via email and to announce your win.
Void where prohibited or restricted by law. Must be at least 18 years of age to enter.