If you are a classic My Little Pony fan, you will love the new release of My Little Pony Tales: The Complete Classic TV Series.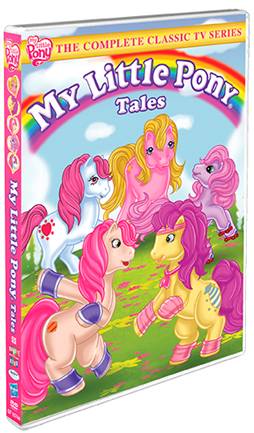 (I received a copy of this DVD to facilitate this review. All thoughts and my opinions are my own.)
On April 28, Shout! Kids in collaboration with Hasbro Studios is releasing My Little Pony Tales: The Complete Classic TV Series DVD set in the U.S. and Canada.
This two DVD set includes every episode of the show that originally aired in 1992. There are 26 adventures in a total of 13 episodes (two adventures per episode) and fun sing-alongs.
The episodes follow the entertaining activities of seven pony friends including Starlight, Sweetheart, Melody, Bright Eyes, Patch, Clover and Bon Bon.
The adventures are full of all kinds of excitement like games, picnics, ice cream shops, roller derbies and so much more.
My Little Pony Tales: The Complete Classic TV Series episodes:
Slumber Party / Too Sick To Notice Princess Problems / An Apple For Starlight
Battle Of The Bands / And The Winner Is… Up, Up And Away / Sister Of The Bride
Stand By Me / The Tea Party Birds Of A Feather / Send In The Clown
The Masquerade / Out Of Luck Happy Birthday, Sweetheart / Gribet
The Play's The Thing / Shop Talk Bon Bon's Diary / Just For Kicks
Impractical Joker/ The Great Lemonade Stand Wars
Ponies In Paradise / Who's Responsible
Blue Ribbon Blues / Roll Around The Clock
My daughter really enjoyed watching these episodes. I love that she can watch the same episodes I enjoyed when I was younger.
Her favorite character is Melody. She has so much fun watching Melody sing like a rockstar.
She really enjoyed the bonus the sing-alongs because she could pretend to be a rockstar like Melody.
My Little Pony Tales: The Complete Classic TV Series Giveaway
a Rafflecopter giveaway
Terms & Conditions
Family Fun Journal is hosting this giveaway on behalf Shout! Factory. Facebook, Twitter and Pinterest in no way sponsor or endorse this giveaway.
By clicking the green "I did this!" buttons you are confirming that you completed these entries and give Family Fun Journal permission to contact you via email and to announce your win.
Family Fun Journal is not responsible for prize fulfillment. Void where prohibited or restricted by law. Must be at least 18 years of age to enter.