#review I received a copy of this DVD to facilitate this review. All thoughts and opinions are my own.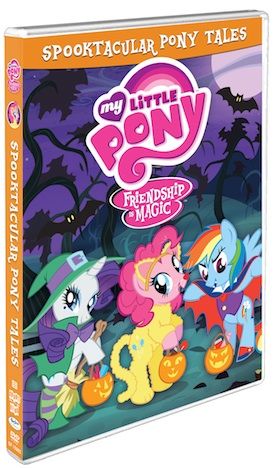 Just in time to start the countdown to Halloween, Hasbro Studios in collaboration with Shout Factory Kids, is releasing My Little Pony-Friendship is Magic: Spooktacular Pony Tales.
On Sept. 9, you can own this extremely fun DVD featuring everyone's favorite residents of Ponyville.
This disc features six episodes and a sing-along. However, the sing-along on this disc is not just any ordinary sing-along. It is a Halloween-themed sing-along!
As a special added treat, this DVD includes a colorful Halloween poster featuring some of the ponies listening to a spooky story. As another added bonus, it includes two pumpkin carving stencils.
I love that this DVD includes so many special bonuses.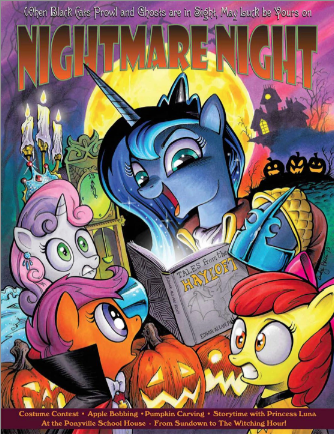 Since this is a Halloween themed disc, you can enjoy watching the ponies wear costumes, trick or treat and have all sorts of spooky adventures.
Twilight Sparkle, Rainbow Dash, Fluttershy, Rarity, Applejack, Pinkie Pie and Spike have a lot of fun experiencing Halloween.
Here is a clip from this adorable DVD:

Episodes on the My Little Pony-Friendship is Magic: Spooktacular Pony Tales include:
Boat Busters
Stare Master
Luna Eclipsed
Sleepless in Ponyville
Castle Mane-ia
Bats!
My daughter really loves this DVD. Since my daughter cannot wait for Halloween, this disc was a very welcomed form of entertainment. She thinks the spooky episodes are so much fun. She has already watched this DVD several times.
While she loves the episodes, she cannot get enough of the spooky sing-along. She has a blast singing with her favorite ponies.
The pumpkin stencils and the poster are also really great. We are looking forward to using the pumpkin stencils for Halloween.
My Little Pony: Friendship is Magic is currently airing on the HUB TV Network in the U.S. And Treehouse in Canada.