#review #recipes My Little Pony-Friendship of Magic: The Keys of Friendship is an adorable DVD. It is everything you would expect from a My Little Pony DVD. The episodes are full of plenty of fun, friendship and adventure. The ponies also learn plenty of lessons along the way.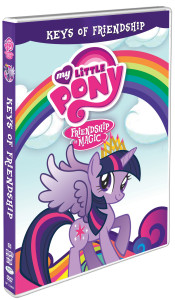 I received a copy of My Little Pony-Friendship is Magic: Keys of Friendship to facilitate this review. All thoughts and opinions are my own.
This DVD focuses on Twilight Sparkle and her friends Rainbow Dash, Rarity, Pinkie Pie, Applejack, Fluttershy and Spike.
Twilight Sparkle learns many valuable lessons and goes on several amazing adventures. During the episodes on this DVD, she earns her wings and a princess crown. She officially earns the title of Princess Twilight Sparkle.
My Little Pony Episodes
Rarity Takes Manhattan
Pinkie Apple Pie
It Ain't Easy Being Breezies
Twilight's Kingdom Part 1
Twilight's Kingdom Part 2
My daughter absolutely loved this DVD. She has already watched it several times. Her favorite pony is Twilight Sparkle. So, she really loved watching her favorite pony become a princess and earn her wings and crown.
While she enjoyed watching all of the episodes, she really had a lot of fun with the bonus section. She put on a performance and had a blast with the pony sing along.
This movie is available on DVD on July 29 in the U.S. and Canada from Shout! Factory Kids in collaboration with Hasbro Studios.
To celebrate the upcoming release of this DVD, here are several super fun recipes! Your kids will love making these pony themed treats.
My Little Pony Recipes
Apple Jack's Apple Pie
Pinkie Pie's Pink Lemonade
Rainbow Dash's Summer Fruit Salad
Twilight Sparkle's Raspberry Star Cookies
Rarity's 4th of July Cupcakes
To access the recipes, click on the image below and you can download the pages.