I received a copy of this film to facilitate this review. All thoughts and opinions are my own.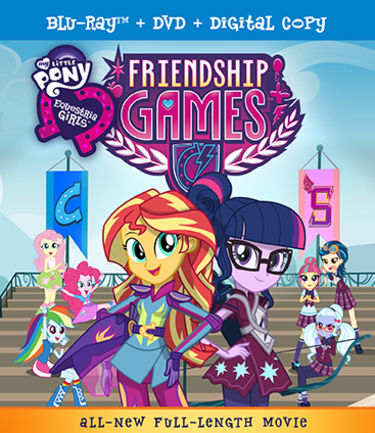 The new full-length film, My Little Pony Equestria Girls Friendship Games, is available from Shout! Factory Kids in collaboration with Hasbro Studios. It is available on DVD, Blu-Ray and Digital.
In this story, Canterlot High School meets its rival school in a competition. This isn't any ordinary challenging event. It is a long-standing tradition for the two schools to participate in the Friendship Games.
The Friendship Games involve several activities including archery, motocross and rollerskating.
In order to keep the games extremely fair for all participants, Sunset Shimmer is given a very important job. She has to keep magic out of the games.
Even more surprising during all of these events, the Equestria Girls meet someone who seems to have a lot in common with one of their friends, Twilight Sparkle. This competitor leads the rival school with the same determination and powers exhibited by the powerful Twilight Sparkle.
Not only does this DVD feature a great film, it also includes special bonus content including deleted scenes, an exclusive musical performance, new audio commentary, sing-alongs and animated shorts.
This film is directed by Ishi Rudell and features the voice talent of Andrea Libman, Ashleigh Ball, Nicole Oliver, Rebecca Shoichet, Tabitha St. Germain and Meghan McCarthy.