My Little Pony-Friendship is Magic: Adventures of the Cutie Mark Crusaders is a DVD your kids will want to watch again and again.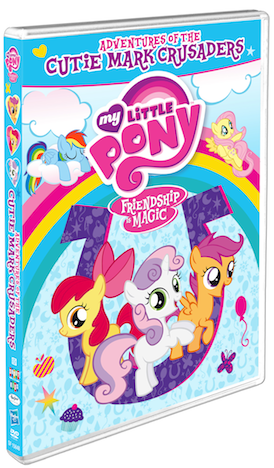 My daughter loves to check in on her favorite residents of Equestria.
This DVD, from Shout! Factory Kids in collaboration with Hasbro Studios, is full of so much fun and adventure.
My daughter cannot get enough of this DVD. She wants to watch it all of the time.
As a pony fan, she always loved their different personalities. Now, she is so excited to learn that the ponies have cutie marks.
Seriously, she loves every episode on this DVD.
Because every pony is unique, each one has its own cutie mark.
On Feb. 24, 2015, you can watch the ponies and figure out your own cutie mark!
In Equestria, obtaining a cutie mark is is a very important coming of age milestone for a young pony.
If you are wondering about cutie marks…let me fill you in. They are the marks ponies have that distinguish them from each other. It is what makes each pony unique.
A pony only acquires a cutie mark after she figures out why she is special.
When Sweetie Belle, Scootaloo and Apple Blossom meet, they become instant friends. Together, they embark on a mission as the Cutie Mark Crusaders!
Adventures of the Cutie Mark Crusaders DVD Episodes:
The Cutie Mark Chronicles
The Cutie Pox
Flight to the Finish
Pinkie Pride
Twilight Time
Here is a clip from the DVD:
Cutie Pox Storybook App From PlayDate Digital
I'm also excited to announce that PlayDate Digital has announced the new Cutie Pox Storybook App.
This app will immerse your child in Equestria with excitement, humor and friendship.
This app focuses around Apple Blossom becoming impatient waiting for her cutie mark. She decides to take things into her own hooves!
In this interactive story book, your child can follow Apple Bloom and the ponies as they learn they must work hard to achieve their goals.
The release of "Cutie Mark Crusaders" marks the first of a series of planned collaborations between PlayDate Digital and Shout! Factory to cross-promote My Little Pony Friendship is Magic stories and media. In addition, Shout Factory and PlayDate plan to host contests and offer value-added bonus material.
My Little Pony – Friendship Is Magic: Adventures of The Cutie Mark Crusaders Printable
Disclosure: I received a copy of My Little Pony – Friendship Is Magic: Adventures of The Cutie Mark Crusaders to facilitate this review. All thoughts and opinions are my own.