I received a copy of Mickey Mouse Clubhouse: Minnie-rella to facilitate this review. All writing and opinions are my own.
What could be better than a Mickey Mouse Clubhouse Minnie themed episode? How about a Cinderella themed Minnie episode!
My daughter LOVES Mickey Mouse Clubhouse. It is such a fun show filled with great music and educational content. My daughter's favorite character is Minnie Mouse. To say she was excited to watch a Cinderella and Minnie Mouse themed episode, is an understatement. She was downright ecstatic!
Mickey Mouse Clubhouse: Minnie-rella DVD Story
Mickey Mouse Clubhouse: Minnie-rella centers around Minnie dreaming she is Cinderella. While Minnie-rella, she needs a ton of help from her friends to get ready for Prince Mickey's Grand Ball. Clarabelle, acting as Fairy Godmother, turns a tomato into a carriage and Minnie-rella's raggedy dress into a beautiful princess gown.
During the ball, Minnie-rella dances with Prince Mickey but must leave the ball before the spell is broken at midnight. With help, Prince Mickey searches to find the owner of the lost glass slipper, Minnie-rella!
This version of the Cinderella story is so much fun. Your kids will love it, especially since they get to participate during the journey. In true Mickey Mouse Clubhouse fashion, your kids get to help Toodles along the way.
The Mickey Mouse Clubhouse: Minnie-rella DVD includes:
Full-length princess adventure
Three additional Mickey Mouse Clubhouse episodes
10 Minnie's Bow-Toons Shorts
A Free Castle Playset
The playset is so adorable. I would actually pay to buy it separately. However, it is included with the purchase of the DVD! My daughter spent hours playing with the castle playset. She enjoyed playing with the castle and characters while she watched the DVD. She's already watched the DVD several times and loves it.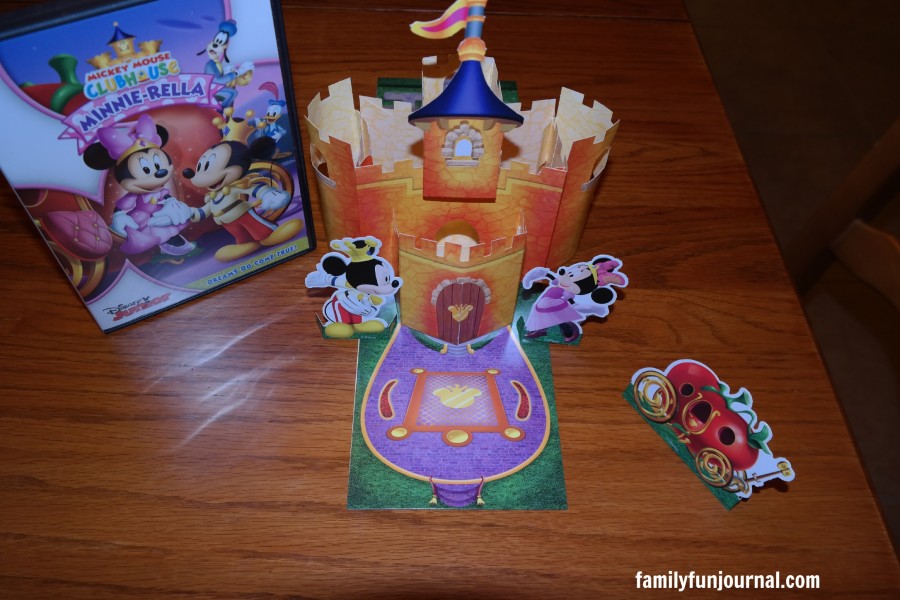 Check out this super cute preview of Mickey Mouse Clubhouse: Minnie-Rella.
This DVD is available to own on Feb. 11, 2014. It will premiere on the Disney Channel and Disney Junior on Feb. 14, 2014.