Starting June 16, you can get the fun-filled DVD, Littlest Pet Shop Paws For Applause. From Shout! Factory in collaboration with Hasbro Studios, this DVD is full of hilarious Littlest Pet Shop adventures.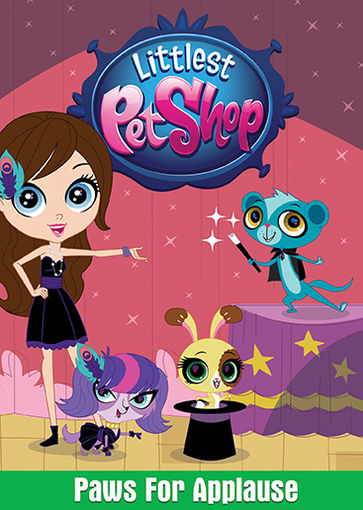 (I received a copy of this DVD to facilitate this review. All thoughts and opinions are my own.)
Blythe and her adorable pet friends, from Mrs. Twombly's Littlest Pet Shop, are back for more funny, zany episodes. The animals always find themselves in all sorts of trouble.
Zoe the spaniel, Pepper the skunk, Sunil the mongoose, Russell the hedgehog, Penny the panda and Minka the monkey plan a big trip to visit Blythe's fashion camp, Fashion University North.
While she is away, Blythe has a hard time being away from the pet shop. The situation is made more complicated when the girl filling her spot tells Blythe she thinks the pet shop is icky.
During this DVD, watch the gang prevent the sabotage of a super important fashion shoot and work together to catch a design thief.
Littlest Pet Shop Paws for Applause Episodes:
Missing Blythe
Super Sunil
Blythe's Big Idea
Some Assistance Required
Back Window
The DVD also features a bonus sing-along.
My daughter thinks this show is cute. She loves the animals and all of their crazy predicaments. She especially loves Blythe. Not only can Blythe talk to animals, she designs amazing fashions.
We both think Mrs. Twombly is hilarious. We love to watch the pets react to Mrs. Twombly. It is so funny.
For a great animated DVD, check out Littlest Pet Shop Paws For Applause.