I received a copy of Littlest Pet Shop Passport to Fashion to facilitate this review. All thoughts and opinions are my own.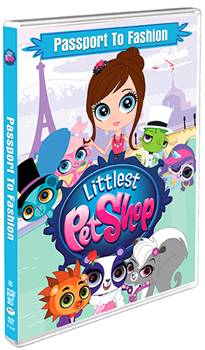 On Sept. 23, Shout! Kids Factory in collaboration with Hasbro Studios is releasing Littlest Pet Shop Passport to Fashion.
The main character, Blythe Baxter, has two pretty cool gifts. She can talk to animals and create amazing fashion.
With her favorite pet friends, Zoe the spaniel, Pepper the skunk, Sunil the mongoose, Russell the hedgehog, Penny the panda, Vinnie the gecko and Minka the monkey, Blythe is determined to becoime of fashion success.
During the episodes on this DVD, Blythe and her friends travel the globe in a spectacular fashion adventure. The group visits exotic cities like Paris, Rio and Shanghai.
They learn a valuable lesson during their travels. They learn that true friends always support each other.
This disc features five episodes from Season 2 of the popular series.
Episodes on the Littlest Pet Shop Passport to Fashion:
To Paris with Zoe
Shanghai Hi-Jinks
Plane It On Rio!
The Expo Factor, Part 1
The Expo Factor, Part 2
In addition to the fun-filled episodes, the disc includes a bonus sing-along. Your kids will have so much fun participating in the sing-along.
My daughter loves Littlest Pet Shop. She has a lot of the toys and enjoys playing with them while watching the episodes.
She loved watching the Littlest Pet Shop Passport to Fashion. She thought this DVD was really cool because it featured locations all over the world. She also enjoyed seeing the different fashions featured in the episodes. In addition, she had an absolute blast doing the bonus sing-along.
Littlest Pet Shop Passport to Fashion features all new original music by Daytime Emmy Award nominee Daniel Ingram and the voice talent of Ashleigh Ball, Tabitha St. German, Nicole Oliver and Peter New.
Littlest Pet Shop currently airs on The HUB TV Network in the US.
You can pre-order copies of the collection now by visiting Shoutfactory.com