Warner Bros. Home Video provided me with some of the materials I used in this Blog Post/Giveaway. The opinions I share are my own.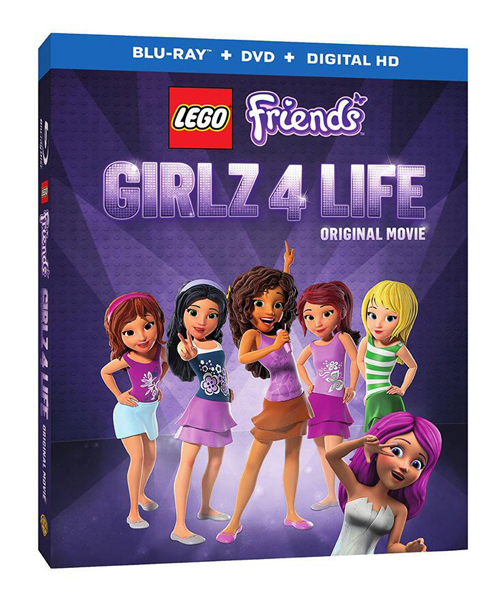 The upcoming movie, LEGO Friends Girlz 4 Life, features a great story with fun music.
Your kids will love watching the LEGO Friends toys come to life in this animated film.
The friends live in Heartlake City and use their imagination to build their own life stories.
Watch as Olivia, Stephanie, Emma, Mia and Andrea learn important lessons about fame and friendship.
When Livi, a celebrity singer, comes to town, her manager steals the LEGO Friends hit song, "Girlz."
Together, they must work to get their song back. They try to tell Livi the truth about her latest hit song and learn important lessons along the way.
In the end, the girls learn that friendship is really important.
The LEGO Friends Girlz 4 Life is available on digital HD now and on Blu-Ray combo pack and DVD on Feb. 2.
LEGO Friends Girlz 4 Life App
For more LEGO Friends fun, check out this interactive app. You can press the play button and watch a special music sing-along video for the Girlz movie by L2M.
You can also listen to the song "High Tops" by L2M.
Download the "Girlz 4 Life" Activity Pack and get access to selfie props, a spot the difference game, making the band DIY pop star instruments, a friendship card and more.
To find out where to purchase the film, click on the LEGO Friends Girlz 4 Life Blu-Ray Combo pack.
LEGO Friends Girls 4 Life Giveaway
Terms and conditions:
Each household is only eligible to win LEGO FRIENDS: Girlz 4 Life Blu-ray via blog reviews and giveaways. Only one entrant per mailing address per giveaway.
If you have won the same prize on another blog, you will not be eligible to win it again. Winner is subject to eligibility verification.
Family Fun Journal is hosting this giveaway on behalf of Warner Bros. Home Video.
Facebook, Twitter, Instagram and Pinterest in no way sponsor or endorse this giveaway.
By clicking the green "I did this!" buttons you are confirming that you completed these entries and give Family Fun Journal permission to contact you via email and to announce your win.
Void where prohibited or restricted by law. Must be at least 18 years of age to enter.
Family Fun Journal is not responsible for prize fulfillment.