Check out this post to find out how to make this incredible layered chocolate pudding dessert!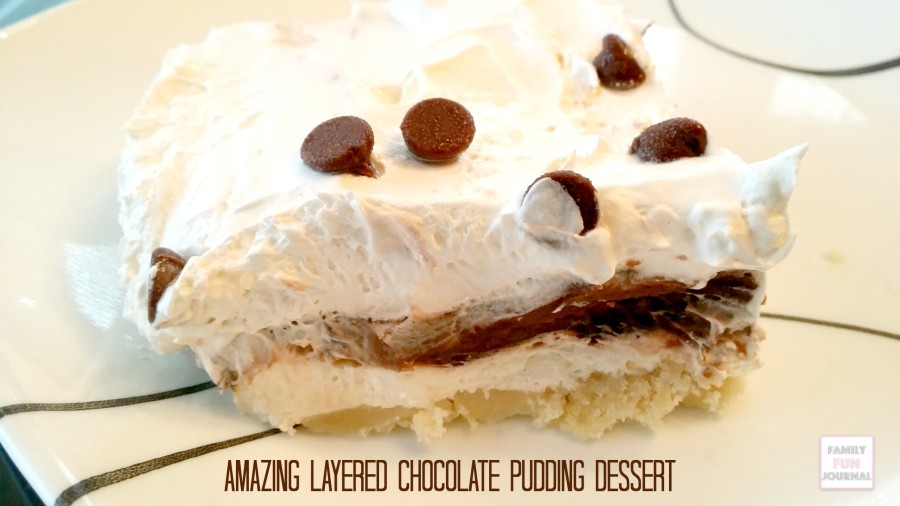 I spent New Years with my sister and her family. We had a blast. During our visit, she made the most incredible layered dessert. It was like a cross between a pie, a trifle and a pudding dessert.
I love the layered chocolate pudding dessert because it combines, whipped topping, cream cheese, chocolate and pie crust. It is sooooo amazing.
This is one dessert that wont last very long. Everyone will go back for seconds. We all loved it. Some of us even ate it for breakfast the next morning.
So, I got the recipe to put on this site. I have to tell you—this isn't just any ordinary recipe. It is one that is hand written on a recipe card. To me, that is a sign that this recipe is something super spectacular! After all, it was so delicious, I wanted you to be able to try it. I promise, you wont be disappointed.
This is the perfect dessert to bring to a pot luck or event. I love it because one recipe makes enough to serve a small crowd.
It holds up really well. You can store it in the fridge and it tastes great for the next few days. I'm amazed that the crust never gets soggy. It is so delicious!
Layered Chocolate Pudding Dessert
Layered chocolate pudding dessert
Ingredients
Crust
1 cup flour
1 stick butter (cubed)
1 cup chopped nuts
Filling
1 block cream cheese
1 cup powdered sugar
16 oz. whipped topping
2 large boxes of chocolate pudding
1 cup mini chocolate chips for topping
Instructions
Crust
Use a pastry blender to mix 1 cup of flour, stick of butter and 1 cup of finely chopped nuts. If you dont have a pastry blender, you can use two butter knives.
Distribute the mixture into a 9x13 pan. Bake at 350 for 20 minutes. Cool in the freezer.
Filling
Mix 1 cup of powdered sugar with the block of cream cheese.
Fold in half of the container of whipped topping.
Spread over the cooled crust.
Return to the freezer.
Mix the two boxes of pudding with 3 cups of cold milk. Mix until incorporated
Pour over the cream cheese, powdered sugar and whipped topping layer.
Top with rest of the container of whipped topping.
Sprinkle with mini chocolate chips.
You can add nuts to the top of this pudding dessert. I prefer the chocolate chips. If you want to go really crazy, you can add chocolate chips and nuts. Either way, this dessert will be your new family favorite!
I cant wait to bring this to my next event. I still cant believe how much we all loved this simple dessert. It is so scrumptious!
I hope you enjoy this layered chocolate pudding dessert!
If you like this dessert, check out these other recipes that use pudding: