I received this DVD to facilitate this review. All thoughts and opinions are my own.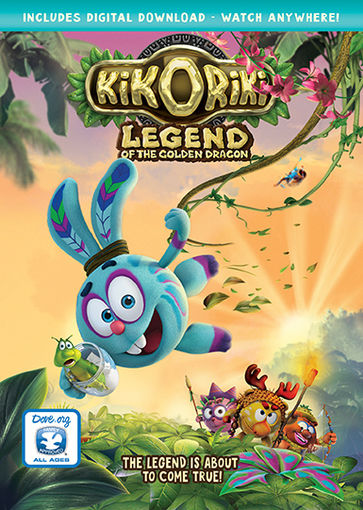 Available on March 7, a brand new CG-animated feature will hit the shelves. Kikoriki: Legend Of The Golden Dragon is based on the GoGoRiki TV series that aired on CW. The beloved group from this popular series is starring in their very own film!
Follow the residents of Kikoriki Island on a giant adventure! Their local scientist invents a helmet called "the Improverizor." His new invention takes the personality of one person and puts it into someone else.
A young resident, Wally, tries to use the machine to cure his cowardice. As you can imagine, things don't go exactly as planned. Instead of getting bravery, he accidentally switches personalities with a little caterpillar! Now, instead of being somewhat fearful, he is super scared!
As a result, the villagers are dragged into a crazy adventure! From plane crashes to erupting volcanoes, the villagers are in for quite an experience!
This zany film is perfect for family movie night. Full of fun characters and hilarious situations, everyone in your family will enjoy this movie.
This DVD is perfect for Easter. It comes with an Easter egg decorating kit!
Kikoriki: Legend Of The Golden Dragon is produced by the Riki Group and directed by Dennis Chernov. It is from Shout! Factory in collaboration with Odin's Eye Entertainment and the Riki Group.
In the future, look for another Kikoriki film from Shout! Factory!