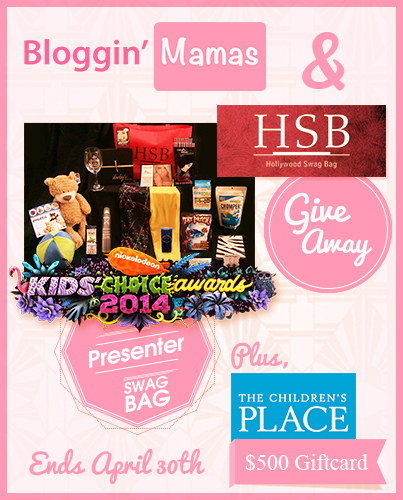 There is nothing more iconic than award show swag bags. Ive always heard amazing things about the bags celebrities take home from events. Now, you have a chance to win your very own award show swag bag!
I've teamed up Bloggin' Mamas & Hollywood Swag Bags to give my readers the opportunity to win an amazing swag bag. One lucky winner will receive a swag bag that was given out to Nickelodeon Kids' Choice Awards 2014 presenters and nominees ($800 Value) + a $500 gift card sponsored by The Children's Place.
The giveaway starts 4/17/14 at 12:01 a.m. est and ends 4/30/14 at 11:59 p.m. est. It is open to United States residents 18 and over. The winner will be selected via random.org and notified via email within 48 hours after the drawing. The winner will have 48 hours to respond or a new winner will be selected. The winner's name will be displayed via the Rafflecopter widget below.
If you win, here is some of the items you might find in your swag bag:
The Buddy Ball is a multi functional toy that can turn from a teddy bear into a ball in a matter of seconds. The soft plush also stores a variety of kid treasures inside. The company gifted the nominees with a variety of their bears named Max, Eva, Landry and Sam.
Oppos leggings for girls that features interchangeable legs. Short for opposites, Oppos enables girls to mix and match the legs of their leggings for a unique look every day of the month (and beyond).
Various pieces of AngieShel Design's amazing handcrafted jewelry.
Ericka La Presle-Freer, creator of Starbars  gourmet organic super food bar in a delicious mint chocolate chip flavor.
The "Brain Bar" was included to help nominees get their "Think On" to help them during their acceptance speeches.
Darby's English Toffee is considered the top toffee maker in Southern California. They added their classic box for the nominees.
Author Jennifer Ormond gifted her precious book Baby's Binky Box.
Oxylent Multivitamin Supplement Drink, Oxygenates, hydrates, circulates and rejuvenates. Drink Oxylent Breathe Life.
SeaSnax, a celebrity favorite, gave a new product "Chomperz" to all of the recipients. Chomperz is similar to a chip, but with the low calories and nutrition of seaweed. SeaSnax are gluten free and all natural.
Crave Naturals included three items from their product line, featuring the best selling Glide Thru Detangling Brush, Whiplash Eyelash Curler and Mirage Argan Oil.
Tat Patch takes your ripped, destroyed and distressed jeans to another level. Tat Patches go on the inside, peeking out. Everyone received a variety of trendy designs.
DidiPopMusic supplied nominees with a collection of her soulful music for kids.
Rusk Hair offered its entire line of hair products.
Nominees over the age of 21 enjoyed Tipsy Girl Wine Design Custom bedazzled wine glasses.
Focal Instincts Photography is including a gift certificate for award winning photography.
Enter via the Rafflecopter below: