I received a copy of Jack and the Cuckoo Clock Heart to facilitate this review. All thoughts and opinions are my own.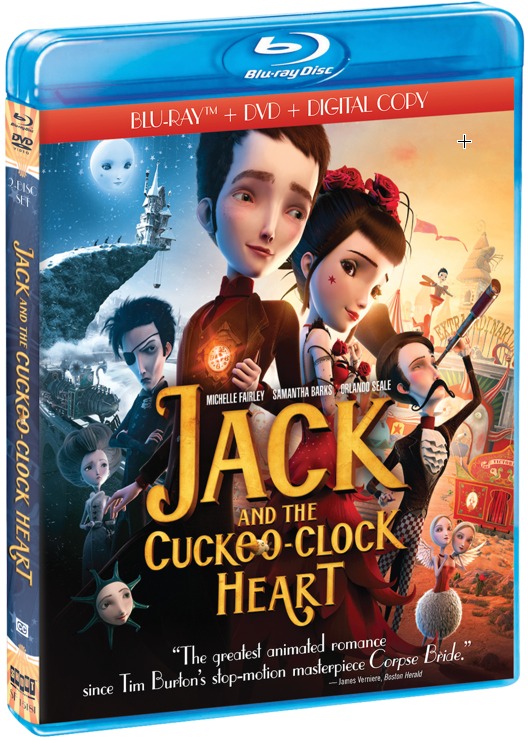 On Oct. 7, Shout! Factory in collaboration with EuropaCorp is releasing Jack and Cuckoo Clock Heart. This whimsical stop-motion DVD is unique and full of imagination.
The film is based on the extremely popular French novel, La Mécanique du Cœur (The Boy with the Cuckoo Clock Heart).
This is a fairy tale like story set in the late 19th century in Edinburgh. The main character, Jack, is born on a very cold day. The day is so cold, in fact, it causes him to have a frozen heart.
Madeleine, the midwife, saves Jack by replacing the frozen heart with a cuckoo clock. This clock will keep Jack alive if he observes three golden rules. He must never touch the hands of the clock, he must control his anger and he must never fall in love.
Jack doesn't have any problems abiding by the rules until he hears a young girl singing on a street corner. When he sees the girl, the hands of his cuckoo clock heart begin to race as he begins to fall in love.
When Jack loses the girl, he makes it his new goal to find her. During his travels, he ventures from the lochs of Scotland, to Paris and to Andalusia.
Jack and the Cuckoo Clock Heart will be available on DVD, two-disc Blu-ray™ Combo Pack (plus DVD and Digital) and Digital HD. The Blu-ray Combo Pack allows viewers to enjoy Jack and the Cuckoo Clock Heart on the platform of their choice and includes spectacular movie presentation on Blu-ray, DVD and a digital copy of the movie.
Adapted by Mathias Malzieu from his own bestselling novel and the gold-selling album by his band Dionysos, Jack and the Cuckoo Clock-Heart features an English-language voice cast of Orlando Seale, Samantha Barks, Michelle Fairley, Stéphane Cornicard and Richard Ridings.
This film is directed by Mathias Malzieu and Stéphane Berla. It is produced by Virginie Besson-Silla.
Visit www.jackandthecuckooclockheart.com for more information about this movie.
Jack and the Cuckoo Clock Heart DVD Special Features
Character Vignettes (in French with English subtitles)
From Book to Screen Featurette  (in French with English subtitles)