Magical Moon Sand is a cool playtime substance that is a cross between sand and play dough. Make this scented sparkly version with common household items!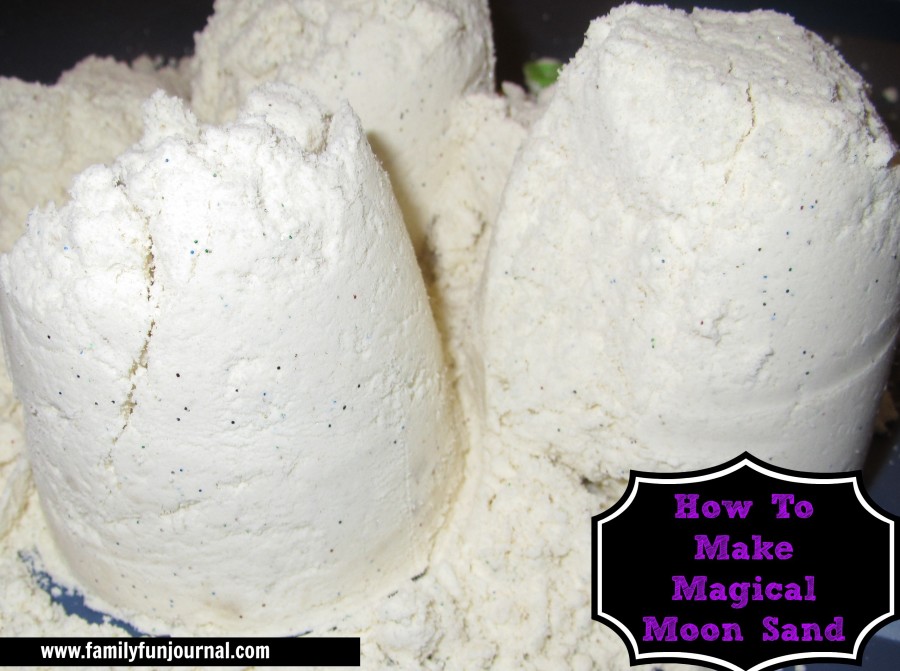 I'm always looking for new ways to entertain my daughter. Now that it is summer, she really wants to play with sand. Since we don't have a sandbox, I wanted to come up with a more interesting way for her to play with sand.
I could have purchased a bag of sand, but I wanted to do something a little more fun. I decided to create a moldable substance that contains glitter and smells great!
Moon sand is really, really cool stuff. It is like a cross between sand and play dough. It is so easy to whip up a batch of moon sand.
The moon sand recipe uses ingredients you already have in your pantry.
Moon Sand For Kids Recipe
Moon Sand Ingredients
16 cups of flour
2 & 1/4 cups canola oil
1 Tbsp. peppermint extract (totally optional)
1/4 cup glitter
Moon Sand Instructions
Combine all of the ingredients in a large container that has a lid.
Mix until everything is fully incorporated.
I put this in a large storage container that serves as a makeshift sandbox.
My daughter just opens the lid and plays with the moon sand directly in the container.
Add small containers and sand toys to make the playtime even more interactive and fun.
A word of caution–I thought I would be a cool mom and let my daughter play with the moon sand inside my house. Not a good idea.
She used the moon sand to make it "snow" inside my house. Seriously, my entire living room was covered in a blanket of glittery white stuff. It took forever to vacuum it all up.
I recommend that you make this an outdoor activity.
I hope your kids enjoy magical moon sand!
If you like this post, check out these other fun activities:
Incredible, Edible Nutella Playdough