This post contains affiliate links.
It's the time of year when home improvement projects move to the top of our priority list. There is something about the nicer weather that makes us want to work on all of our projects.
Wouldn't it be great to win a gift card to help pay for your home improvement projects?
Savings.com and Home Depot are giving away $3,000 worth of gift cards. It is really easy to enter to win.
From now until Wednesday, April 23, at 7:00 PM EST, Savings.com and Home Depot will be giving away $1,000 in gift cards every day!
The winners will receive a $20 Home Depot gift card.
To enter the giveaway, visit the Home Depot page on Savings.com. To access it, click on the image below.
Savings.com will notify the winners and send them their gift card code via the email address they use to enter the giveaway.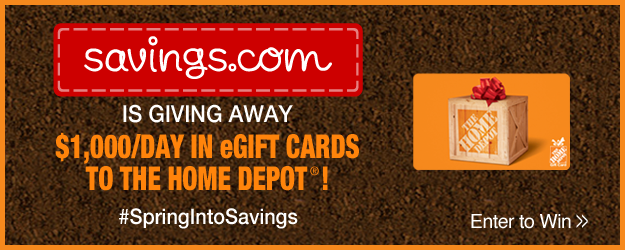 What would you do with an extra $20 from Home Depot?
Home Depot Coupon Code
To save $10 off of your purchase of $100 or more, visit Savings.com and grab the coupon code. This deal runs April 21 through April 27.