I received a copy of Hey Arnold! The Complete Series to facilitate this review. All thoughts and opinions are my own.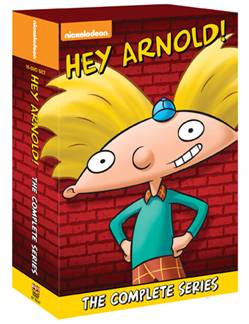 The popular Nickelodeon show, Hey Arnold!, is now out on DVD. This 16-DVD box set features 99 adventures with Arnold and his friends. You can buy this box set and have access to every episode of Hey Arnold!. Hey Arnold! The Complete Series, is available from Shout! Factory.
This show centers around Arnold. He lives in the big city with his grandparents. They run the Sunset Arms boarding house. Because of this, Arnold lives with a very unique group of characters. He even has a pet pig.
Arnold is in 4th grade and goes to school with a memorable group of people. His friends include storyteller Gerald, class jinx Eugene, the occasional bully Harold and Helga, a tomboy who also has a secret crush on him.
Other than Arnold, I think Helga is one of the most recognizable characters. While she is super mean to Arnold, we all know it is because she really likes him.
I was in high school when Hey Arnold! was on Nickelodeon. I remember that the show was extremely popular. My younger sisters were big fans of the show. They loved the characters and that Arnold had a football-shaped head.
I think it is so much fun to watch these DVDs with my daughter. I love that she can enjoy watching classic cartoons. She thinks the characters are really funny. She especially likes all of their crazy adventures.
Hey Arnold! was created by Craig Bartlett as a comic in 1986. It debuted as an animated short for the Nickelodeon film Harriet the Spy in 1996. The show ran on Nickelodeon from 1996 to 2001.
Hey Arnold! features the voice talent of  Dan Castellaneta (The Simpsons), Francesca Smith (Recess),  Toran Caudell (Recess) and Jamil Walker Smith (SGU Stargate Universe).
This set is available exclusively at Walmart.