Happy Valentine's Day. In honor of this special day, here is a simple heart lacing craft. This is a great way to keep your kids entertained with a Valentine's Day themed project.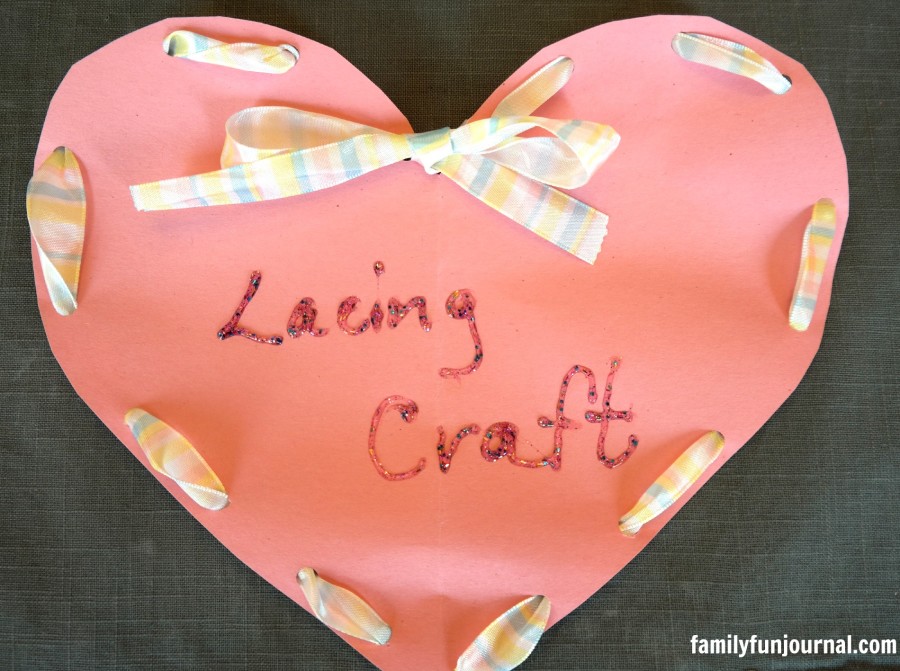 Not only is this a fun craft, it also allows your child to work on his/her hand-eye coordination and motor skills. I love it when a project is simple, fun and provides a learning experience.
Since my daughter loves art projects and is learning to tie her shoes, I thought I would combine the two into one entertaining activity. I really like this heart lacing craft because you can do this project with items you already have in your home.
[print_this]
Heart Lacing Craft
Supplies:
Construction paper
Hole punch
Scissors
Ribbon
Glitter glue or markers
Instructions:
Cut a heart out of the construction paper. I did this the easy way by folding it in half.
Using a hole punch, make holes around the edge of the heart.
Starting at the top, on one side, let your child use the ribbon to weave around each side of the heart.
When your child has finished threading the ribbon, both ends should meet at the top of the heart.
Let your child practice tying a bow.
Your child can decorate the heart with glitter glue or markers.
[/print_this]
My daughter took an active role in this project. She picked the color of the paper and chose the ribbon. I cut the heart and used the hole punch. She then laced the ribbon around the heart and tied the bow.
My daughter had a blast doing this heart lacing craft. She loved lacing the ribbon and tying a bow.
Once this craft is completed, you could easily turn it into a Valentine's Day card by writing a special message on the heart.
I hope you and your family have a great Valentine's Day!