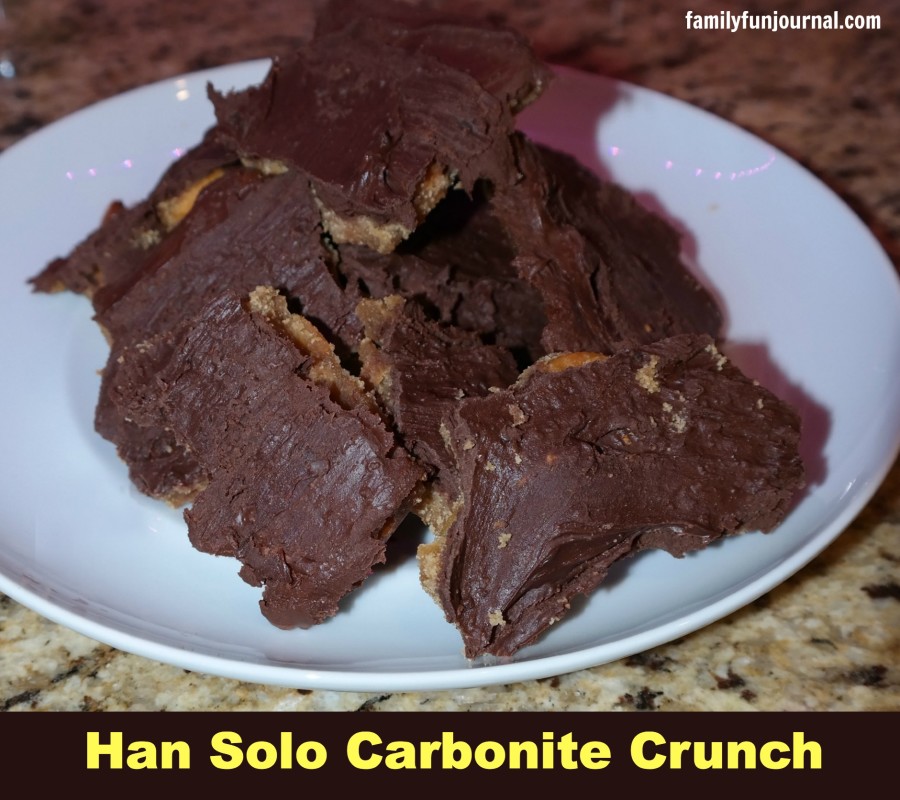 In honor of Star Wars Day, here is a fun recipe I've titled Han Solo Carbonite Crunch. Let's face it, without a great snack, a good Star Wars Day would be incomplete.
This dessert is so amazing, I guarantee, you will want to make every single day Star Wars Day. If you live in my house, every day pretty much is Star Wars Day.
Han Solo Carbonite Crunch is the dessert treat that every young Jedi likes to eat. It pays homage to Han Solo's bravery during his frightening entrapment in carbonite.
Now that I have a young Star Wars fan in the house, a special themed treat is definitely in order.
I've seen the Star Wars movies way too many times. My husband would be proud that I know so much about the films.
Star Wars Han Solo Carbonite Crunch Recipe
Star Wars Han Solo Carbonite Crunch
Ingredients
1/2 cup unsalted butter
1/3 cup peanut butter
1 and 1/2 cups brown sugar
9x13 pan topped with a greased layer of tin foil
1 and 1/2 cups chocolate chips
Bag of mini peanut butter Ritz Bits
Instructions
Line the greased pan with Ritz Bits
In a pot, over medium heat, combine the butter, peanut butter and brown sugar.
Cook until bubbling.
Pour the mixture over the Ritz Bits.
Bake at 425 for 5-7 minutes.
Top with chocolate chips.
Once the chips have melted, spread to form an even layer over the bars.
Put the pan in the freezer and serve when hardened.
http://www.familyfunjournal.com/han-solo-carbonite-crunch/
It is important to note that you want the chocolate to have a rough, textured appearance. Don't make extra effort to get it smooth. Really. If you've seen the movie, you know that the carbonite is not smooth in appearance. It has a textured appearance. I think the treat should look the same.
Once the crunch has hardened, have your kids help you break it into pieces. In my opinion, this activity is the best part of the recipe. You will have carbonite crunch in all shapes and sizes.
This stuff is so addictive! The combination of the peanut butter Ritz Bits, toffee and chocolate is amazing! My family ate the Han Solo carbonite crunch like crazy!
For a fun activity to go along with this treat, check out this Star Wars craft.
If you love Star Wars Legos, check out this super fun time lapse. My daughter and husband recently put together the Star Wars Lego Millenium Falcon.