I received Guardians of the Galaxy Vol. 2 on DVD to facilitate this review. All thoughts and opinions are my own.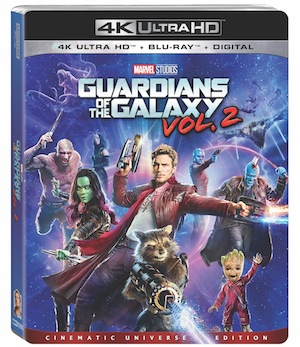 Did you watch Marvel's Guardians of the Galaxy Vol. 2 in theaters? In case you missed it or want to rewatch a great film, check out the DVD on Aug. 22. This is the first time the studios are releasing an in-home title in 4K Ultra HD format. This will provide the ultimate viewing experience. To go along with amazing visuals, you can also enjoy the Dolby Atmos immersive audio.
I was able to enjoy Guardians of the Galaxy Vol. 2 with my daughter. Based on the questions she was asking me during the credits, I could tell that she was really excited about the latest edition of the franchise. To gear up for the film, we watched Vol. 1 to make sure we were ready for Vol. 2. After watching the film, my daughter and I spent several days saying "I am Groot" to each other.
Vol. 2 did not disappoint as it continued to provide a great mix of comedy and action. The latest installment of Guardians of the Galaxy starts off with the team hired to protect some batteries from an invading monster. After a few rounds and several good jokes, the team prevails. Unfortunately, they don't get far before they start getting chased by the people who hired them. It turns out that Rocket has stolen some of the very items they were hired to protect. The maddening escape culminates with Peter Quill, AKA Starlord, meeting his father. The story continues as he learns more about his father and his past.
My daughter and I both agree that this is a movie we can watch several times. I look forward to watching this movie at home on DVD!
We also love the soundtrack from the first film. So, we are looking forward to Awesome Mixtape #2.
Guardians of the Galaxy Vol. 2 stars the talent of Chris Pratt as Peter Quill/Star-Lord, Zoe Saldana as Gamora, Dave Bautista as Drax, Vin Diesel as the voice of Groot and Bradley Cooper as Rocket.