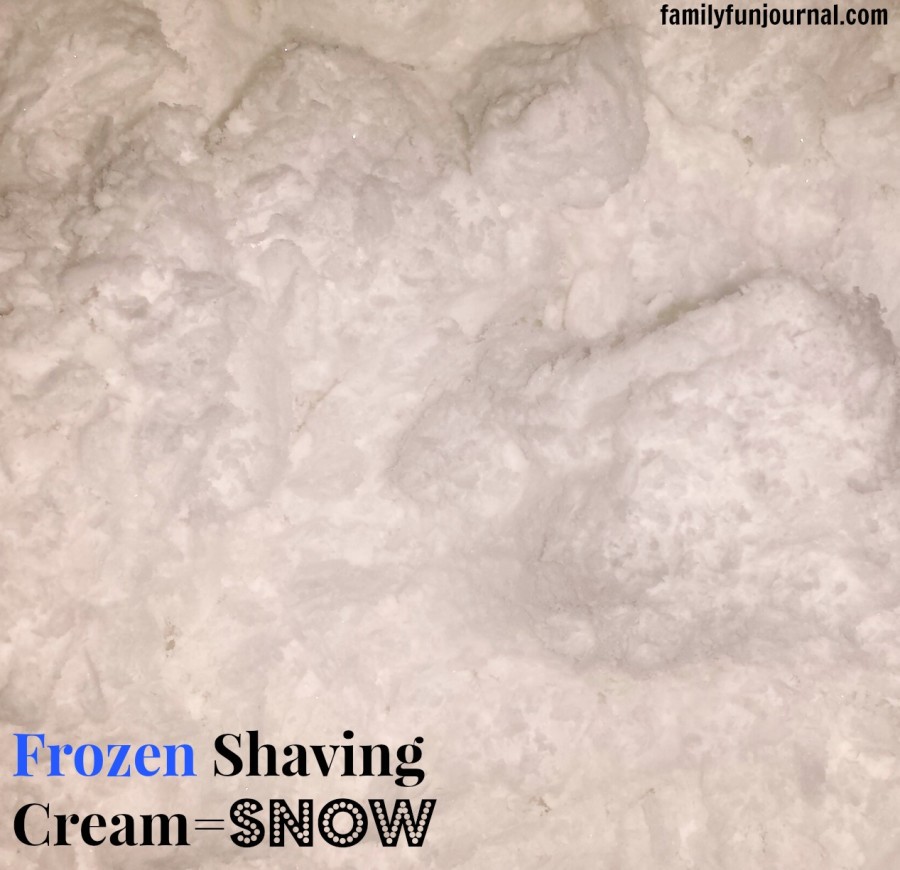 My daughter is obsessed with the movie Frozen.
We listen to the music in the car and at home. If we aren't listening to it, we are all constantly humming it.
We've seen the movie countless times. There is only one problem. It's summer and there isn't any snow.
My daughter has been asking for snow. She wants to be like Queen Elsa and make her own snow.
Since I cant make real snow, I came up with the next best thing. Frozen shaving cream.
If you read this site, you'll know that I experimented with a frozen shaving gel fun activity and she had a blast playing with it.
Even though that activity was a lot of fun, it wasnt snow-like enough.
So, instead of using shaving gel, this time we used shaving cream. The results were amazingly fun. The frozen shaving cream feels a lot like real snow.
[print_this]
Frozen Shaving Cream Snow Activity
Supplies:
1 can of shaving cream
1 large freezer bag
Frozen Shaving Cream Snow Instructions:
Empty the contents of the shaving cream directly into the freezer bag. Do this by dispensing the shaving cream until the can is empty.
Seal the bag and store in the freezer overnight.
The next day, empty the contents into a large container.
Your child can play with the shaving cream. You can let them play with it until it melts or add water to create foamy fun.
[/print_this]
I let my daughter play with this in the kitchen sink. She played with the snow and then slowly added water.
I gave her a bunch of small containers and measuring cups to use with the snow.
Here are a few Frozen themed printables:
For a fun snack to go along with the Frozen theme, check out this post about frozen grapes.
I hope you enjoy this frozen themed activity!