This flying ghost decoration is my absolute favorite Halloween purchase this year. You won't believe that I found it at my local Kroger grocery store. You also won't believe that it cost under $10.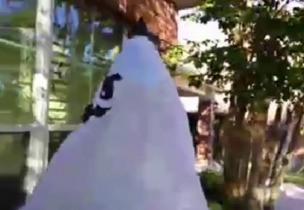 It is a super cute ghost that travels back and forth on a rope. It operates on batteries and is activated by a motion sensor. It makes spooky noises as it travels along the rope. We tied the rope between two trees in our front yard.
Check out the video of the flying ghost decoration in action.