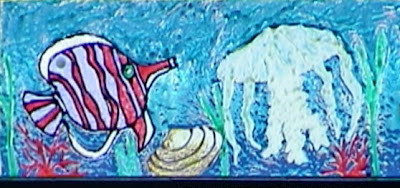 This faux stained glass DIY project was created with Plaid Gallery Glass Window Color. This paint is an easy, inexpensive way to cover any window and spend time doing a project with your child.
We chose the pattern and painted it with colors that matched our room. When the sun filters through the window, it creates a stained glass effect.
Also, my daughter chose to use glow in the dark paint for the jelly fish and on the fins of the fish. It really glows at night. Instead of applying this directly to a window, you can do it on a piece of plastic and suction cup it to a window.
[print_this]
Instructions:
Draw out the design on a piece of paper or use one from a Plaid Gallery Design book
Put a Plaid Gallery Glass Plastic Sheet on top of the paper or design book page
Trace over the pencil lines with the lead line paint
Fill in the smaller designs with your chosen colors
After these have dried, apply them to a clean window or piece of plastic
Fill in the larger areas around the lead lines with paint using either a small paint brush or a toothpick (we found a toothpick to be the most effective tool)
[/print_this]
To see another project I created with these paints, click here.