As a LeapFrog Mom Ambassador, I receive products, promotional items and educational material to use and share as I see fit. However, any opinions expressed by me are honest and reflect my actual experience. 
We are family that loves technology. We have tablets, iPads and other devices. When I encountered the LeapFrog Platinum, I was curious as to whether my daughter would part with her beloved iPad to use a new device.
I was pleasantly surprised that the LeapPad Platinum greatly captured her attention. It is much more than a tablet. It is an interactive learning tool.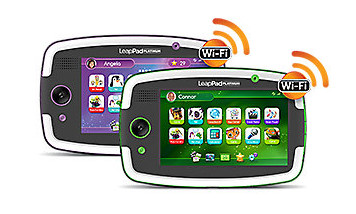 From LeapFrog, the maker of the #1 kids' tablets, this device more than exceeded my expectations.
The LeapPad Platinum makes the learning experience very interactive and fun. My daughter really enjoys using this device.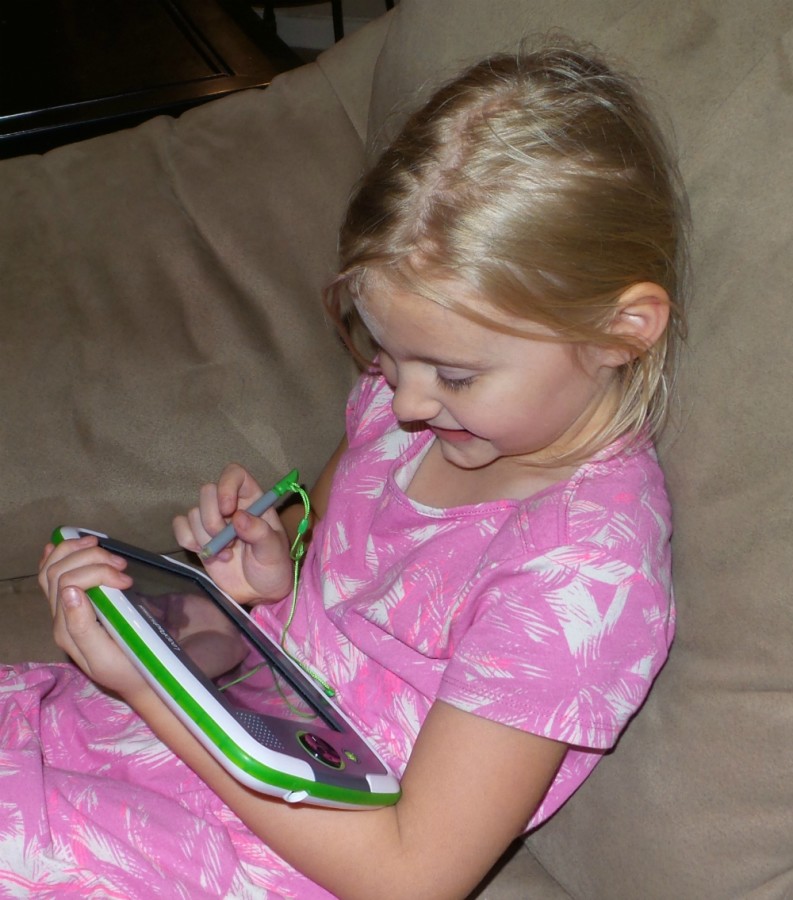 LeapPad Platinum Features:
The device contains a 7 inch high-resolution, multi-touch capacitive screen.

It is run by a fast processor.

It has 8GB of memory.
This device allows access to the LeapFrog learning library with more than 1,000 educational games.
Certain games allow personalization.
The LeapPad Platinum features Wi-Fi with a kid-safe browser, which allows you to set parental settings for age appropriate content.
The device is durable. It has a shatter-safe screen and wrap around bumper.
It contains two cameras and video recorders.
Your child can connect with a friend on peer to peer enabled LeapPad.
Unlock more than six hours of LeapFrog Imagicard digital games and interactive cards.
LeapFrog Imagicard Sets
Let's talk about LeapFrog Imagicard, a one of a kind digital and physical learning experience. The Imagicard sets bring an entire new level of gameplay to the LeapPad.
By using the cards, your children can immerse themselves in the related games. This makes the learning process even more entertaining.
How Imagicard works:
Capture a photo of the cards to bring a character into the game or to unlock the magical gameplay.
Store the cards in a branded tin.
Use the play mat for card sorting and offline learning activities.
All 30 plus cards are included in the game. So, children can play the full games at all times.
I received the following Imagicard sets to review. Here is a rundown of each one.
Save Adventure Bay With Paw Patrol Imagicard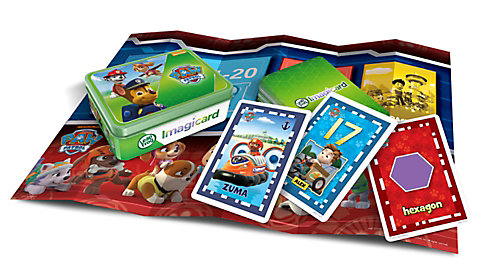 My daughter loves Paw Patrol. She couldn't wait to try this mathematics themed Imagicard set.
This set of cards is geared for ages 3-5. It features six playable characters and allows kids to patrol the bay for citizens in need of help.
This set allows children to work on the following skills:
Number recognition
Counting
Shapes
Patterns
Addition
Subtraction
My daughter's favorite feature of this set of interactive cards was taking selfies with her favorite Paw Patrol pups. She also loved decorating the images.
Teenage Mutant Ninja Turtles Imagicard
This Imagicard set is geared to ages 5-8. Children can play as Mikey, Leo, Donnie and Raph and use each turtle's special skills while working on mathematics. They can climb walls, vault over ooze pits and so much more.
They can capture the cards to bring their favorite turtles on screen and answer trivia questions.
Plus, they can take selfies with the turtles in their favorite ninjutsu poses.
This set focuses on the following skills:
Addition
Subtraction
Multiplication
Division
Fractions
Number composition
Letter Factory Carnival Imagicard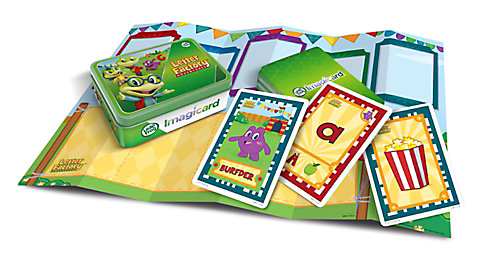 This Imagicard set is focused on reading and geared for ages 4-7. This was a huge hit in our house because it featured my daughter's favorite characters from the LeapFrog shows.
Children can use their literary skills to unlock different carnival attractions.
They can take photos of the cards and bring them into the game. Then, they can participate in quests to find lost items that begin with each letter.
There are also four mini carnival games.
This Imagicard set focuses on the following skills:
Phonics
Spelling
Consonants
Word Sounds
Sight Words
For more information about all of these products, visit LeapFrog.com