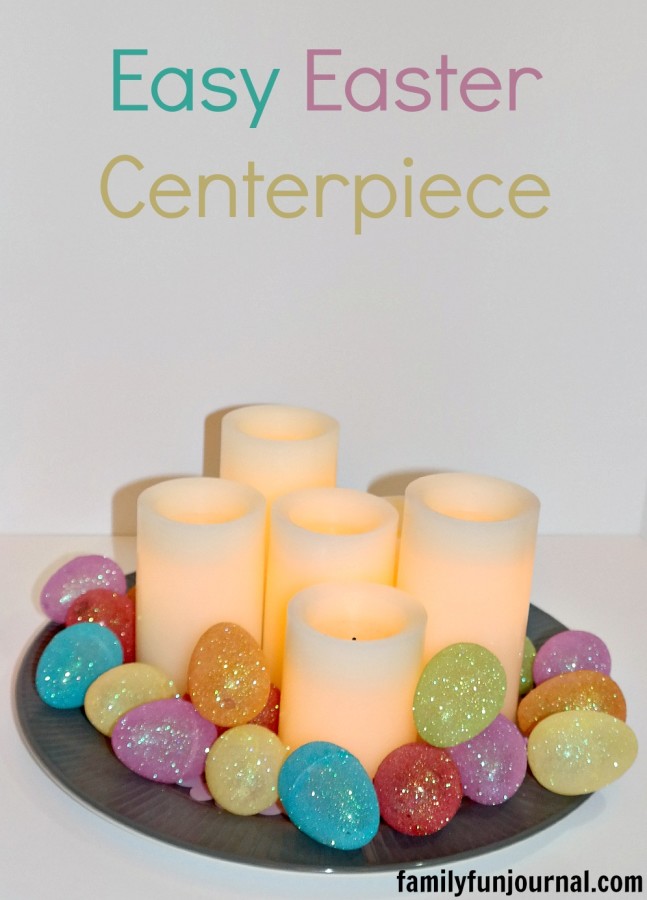 Easter is right around the corner. If you are planning to have a large event or even a small family gathering, this centerpiece will make your table sparkle.
I just love making holidays extra special.
This centerpiece takes very little time to assemble. Since you are probably going to be busy with meal preparation, this little project wont take up a lot of your time.
This is also a great project you can let your kids put together. They will love creating this centerpiece.
To create this centerpiece, I used a large plate, glitter Easter eggs and LED candles.
I am a huge fan of the battery operated LED candles. There are so many things you can do with them. I picked up mine from Costco. They even have a remote control. I use them for so many different things.
I picked up the glitter Easter eggs from Walmart. They were really inexpensive. They caught my eye because they are covered in glitter. I love sparkly stuff.
I used a large plate and set several candles in the center. I then arranged the glitter Easter eggs around the candles.
If you don't have candles, you could use other items in the center of the plate. You could use a bunny, even a large chocolate one, a cute potted plant or a vase of flowers. Regardless of which option you choose, simply arrange the eggs around it on the plate.
If you want to make things really easy, just pile the eggs on a plate or in an Easter basket for your centerpiece.
This is the perfect centerpiece for your Easter table. It literally takes a few minutes to put together and your guests and/or family members will love it.
I hope you are inspired to add a little sparkle to your table with this easy Easter centerpiece.