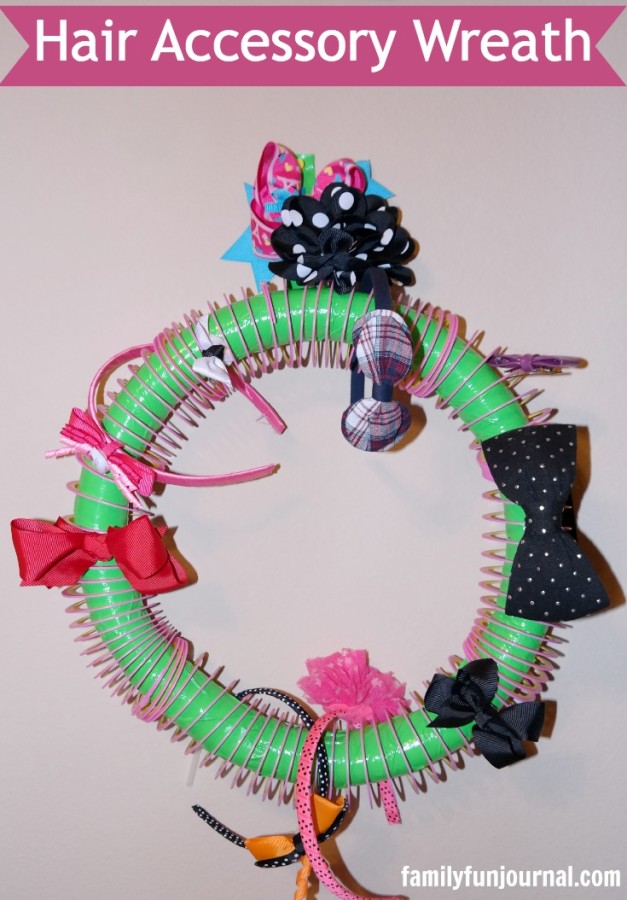 This easy DIY hair accessory wreath is the answer to your organization problems.
If you have a daughter, you understand the battle of the hair accessories. It is almost impossible to find a storage container that can accommodate hair bows, headbands and barrettes. If you do find a container, you have to dig to find the right accessory. It can be very frustrating, especially, if you are having one of those rushed mornings before school.
One day, I saw a slinky and thought about wrapping it around something to create a wreath. I went out to our garage and saw some pipe wrap and knew a fun idea was coming together.
I didn't want to wrap the slinky around the gray foam. So, I decided to wrap the foam in duct tape. I then wrapped it in three slinkies and put together a super fun and easy DIY hair accessory wreath.
DIY Hair Accessory Wreath Instructions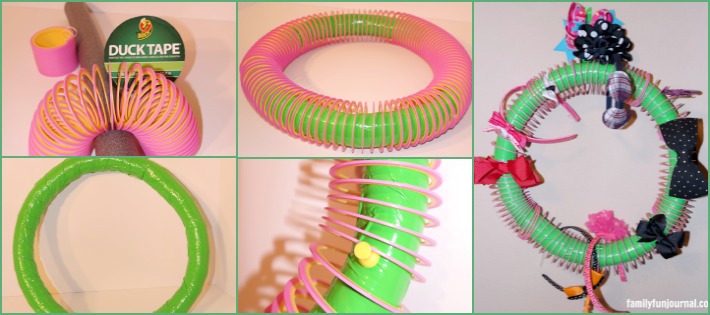 Supplies:
3 slinkies
Duct tape
Pipe wrap (the kind you use to cover your pipes to keep them warm) or a pool noodle
Scissors
Clear plastic ponytail bands
Tacks
Directions:
Insert a support into the pipe wrap. You can use folded paper towel tubes or empty toilet paper rolls.
Cover the pipe wrap with duct tape. Start at the top, securing the two ends together.
Once the wreath is covered with tape, take the slinkies and wind them around the wreath.
Take the clear plastic bands and join the ends of the slinkies together as you spread them around the wreath.
Take several tacks and stick them around the back of the wreath to secure the slinkies in place.
Take a strip of duct tape and tape it to itself. Secure it to the back of the wreath with a tack. (You will use this to hang the wreath on the wall.)
Attach your hair bows and headbands.
I love to make crafts with common household items, especially duct tape. Not only is it inexpensive, it is so much fun to make something amazing out of something ordinary.
Here are a few more duct tape craft projects:
Three DIY Bathroom Mirror Frames
I originally wrote this post for MomItForward.com on April 21, 2014.