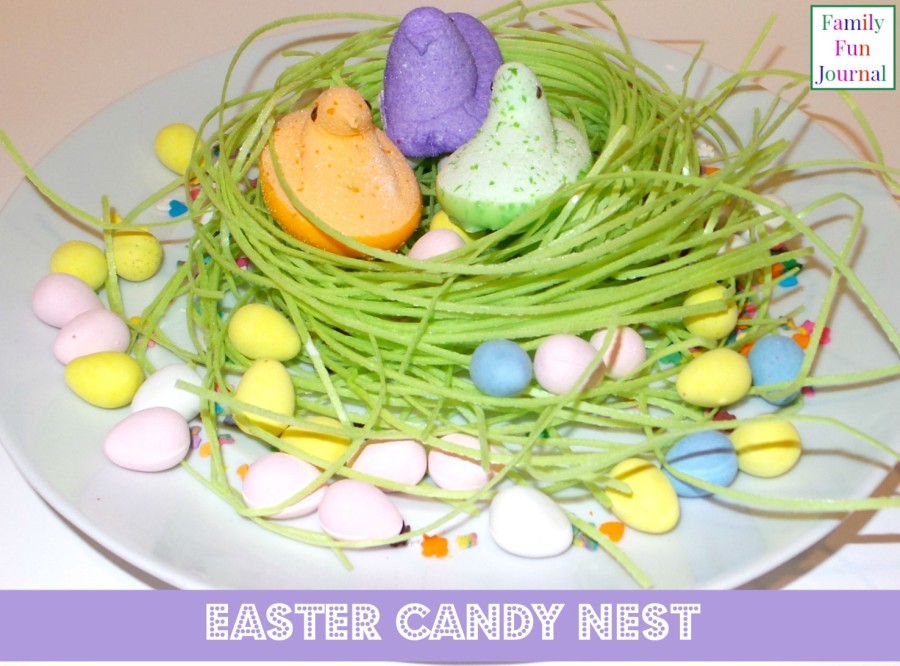 I love Easter candy. My favorite type of Easter candy is chocolate Cadbury Mini Eggs. My daughter and husband love Peeps.
My daughter also loves edible Easter grass. I tried to get a jump start on Easter basket items. I purchased candy and thought I did a great job of hiding everything.
My daughter, however, managed to find everything. She then had the amazing idea of creating a giant Easter candy nest featuring Peeps.
Since Im always looking for family fun things to do, I decided to make it work. We had so much fun creating this Easter candy nest and even more fun eating it!
Just don't tell the Easter bunny we ate some of the candy early….
This Easter candy nest would make a great centerpiece for a party or get together.
Easter Candy Nest For Kids
Supplies:
Sprinkles (I used spring flower sprinkles)
Peeps
Edible Easter Grass
Cadbury Mini Eggs (the pastel eggs with a crunchy shell)
Instructions:
Cover a large serving plate with sprinkles.
Use the edible Easter grass to form a giant nest. You can do this by removing all of the Easter grass from the package at once. The package I purchased at Target is already in a round shape. This works to your favor.
Take the grass out of the package and place it on a large plate. Arrange it so that it resembles a bird's nest.
Take the Cadbury Mini Eggs and sprinkle them in the nest and around the plate.
Place Peeps in the center of the nest.
You could easily make the nest bigger by forming a larger opening in the middle. By doing this, you could fit more Peeps in the center and fill it with more candy.
If you don't want to create this Easter candy nest on a plate, you could totally make it inside a basket. I think that would be really adorable.
Fun Easter Candy Projects