What better way to celebrate the upcoming birthday of Dr Seuss than with a fun popsicle? This kid-friendly frozen treat is so easy to put together and fun to eat. What kid wouldn't like eating a popsicle full of candy fish? I know my daughter loves this treat.
I love Dr Seuss books. They are so much fun to read with your kids. Since his birthday is on March 2, I put together a simple and fun Dr Seuss themed treat. This Dr Seuss popsicle plays on one of my favorite books: One Fish, Two Fish, Red Fish, Blue Fish.
If you haven't had a chance to enjoy Dr Seuss books with your kids, I encourage you to do so. They are such a fun way to get your kids excited about reading. Plus, they are really creative and funny books.
When my daughter was a baby, it was hard to find books that would catch her attention. I bought a few of the classic Dr Seuss books and she loved them. As a Mom, I love that the books feature brightly colored images and fun, innovative text.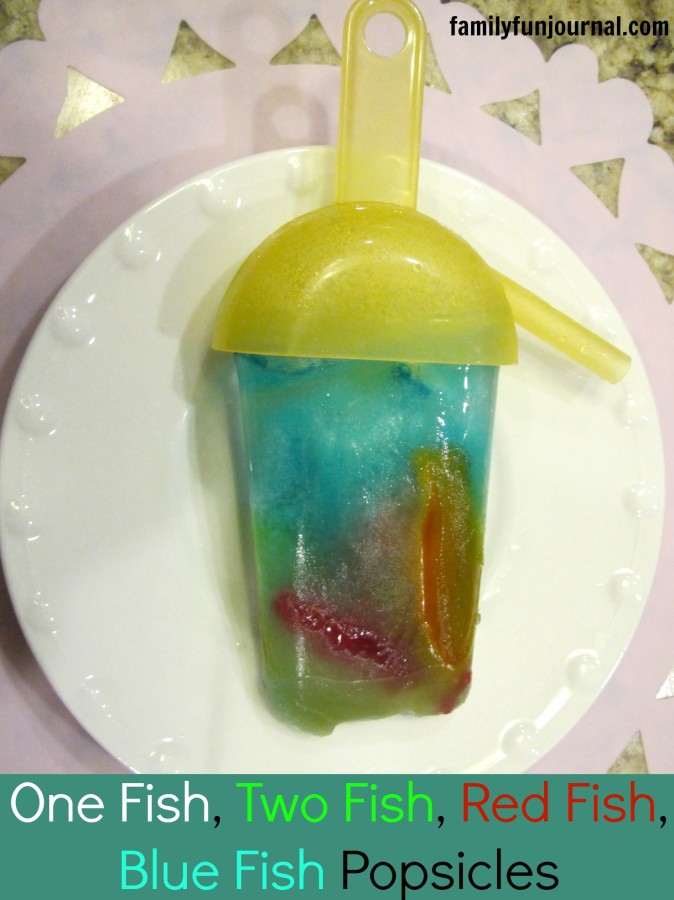 To make a treat fit for Dr Seuss, I knew it had to be creative. This popsicle fits the bill. It is a fun frozen treat that your kids will enjoy making and eating.
Dr. Seuss Popsicle Recipe
Dr Seuss Popsicles
Ingredients
Blue Kool-Aid
Swedish Fish
Popsicle Molds
Instructions
Make the blue Kool-Aid according to the package instructions.
Place a few Swedish fish into the bottom of your popsicle molds.
Pour the blue Kool-Aid into the molds.
Freeze until hardened.
I hope you enjoy making and eating these fun popsicles! You can change the color of the popsicle by using a different flavor of kool-aid. The possibilities are endless. I chose blue because it looks like water and you can still see the fish inside the popsicle.
The next time you grab a Dr Seuss book, consider eating this fun frozen treat.
If you like this cold treat, check out this super easy pudding popsicles.