#review I received a copy of this DVD to facilitate this review. All thoughts and opinions are my own.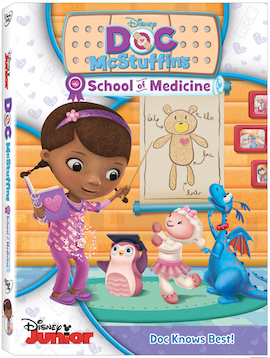 On Sept. 9, Disney is releasing Doc McStuffins: School of Medicine. All Doc McStuffins fans will love the episodes featured on this DVD.
This disc highlights all of Doc's specialities including:
Doc is an optometrist when she helps her stuffed toy owl, Professor Hoostburgh, to see clearly once again.
She is a dentist when she fixes a tooth on Donny's toy shark Mr. Chomp.
She is a radiologist when she takes a look at Daisy's arm after a Roller Disco fall.
Doc always takes great care of her stuffed animal patients. So, when she accidentally sprains her own ankle, her toys come to the rescue. They provide exceptional care by making sure Doc gets plenty of rest, patience and cuddles.
Doc McStuffins School of Medicine episodes:
Chilly Gets Chilly / Through The Reading Glass (Optometry)
Hallie's Happy Birthday / Shark-Style Toothache (Dentistry)
Think Pink / You Foose, You Lose (Sports Medicine)
Disco Dress Up Daisy / The Glider Brothers (Imaging/Radiology)
Celestial Celeste / Run Doc, Run! (Imaging/Radiology)
In addition to the adorable episodes, this disc includes an added bonus. Your kids will have so much fun playing with the free Doc McStuffins dress up playset. This playset features a paper doll Doc McStuffins with different outfits and accessories.
My daughter loves Doc McStuffins. Last year, I bought her a Doc McStuffins costume during an after Halloween sale. She loves to wear it while she watches Doc McStuffins.
As a Mom, I've used Doc McStuffins to help my daughter overcome her fear of going to the doctor. This show really helps make doctors less scary and more relatable to kids.
This Emmy-Nominated Disney Junior animate series stars Kiara Muhammad (as Doc McStuffins); Loretta Devine (as Hallie); Lara Jill Miller (as Lambie); Robbie Rist (as Stuffy); Jess Harnell (as Chilly); Jaden Betts (as Donny McStuffins); Kimberly Brooks (as Mom McStuffins); and Gary Anthony Williams (as Dad McStuffins). Chris Nee is the creator/executive producer.