#DisneySide Disclosure: I received a complimentary party kit thanks to Disney Parks and MomSelect. All other expenses, thoughts and opinions are my own.
My family was absolutely thrilled to host a Disney Side @Home Celebration. We love to show our Disney Side! We had so much fun hosting a Disney princess dress up extravaganza!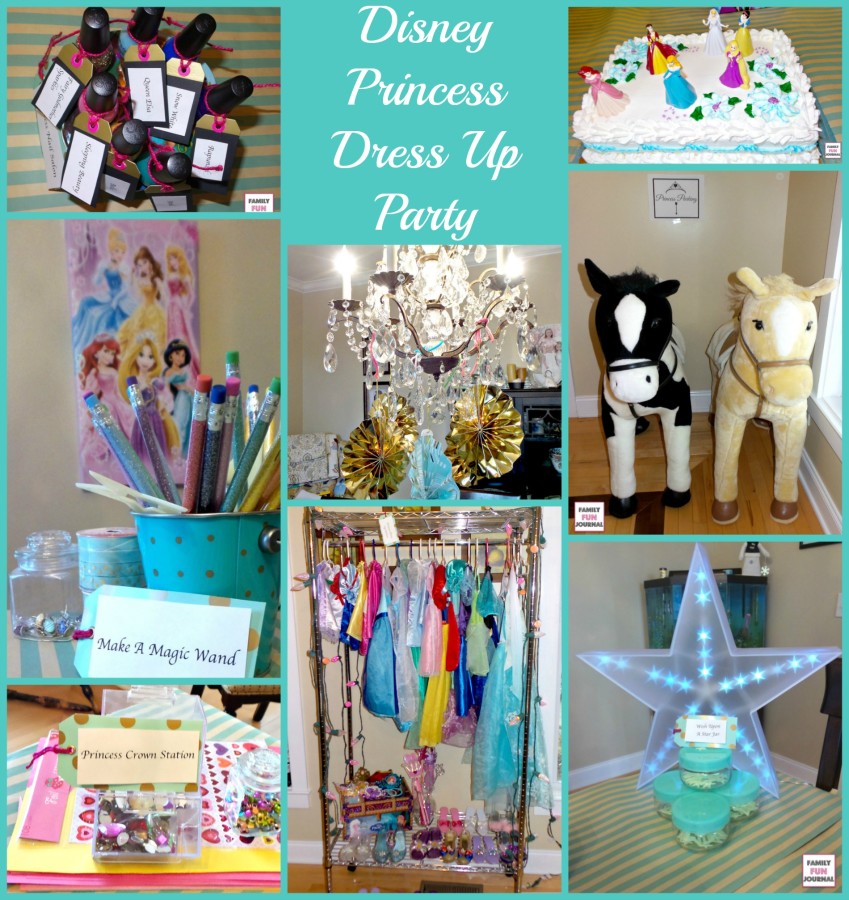 Disney Princess Party
The Decorations
We hung gold and turquoise decorations from a crystal chandelier. I think the chandelier really makes the princess party feel extra fancy. Don't you?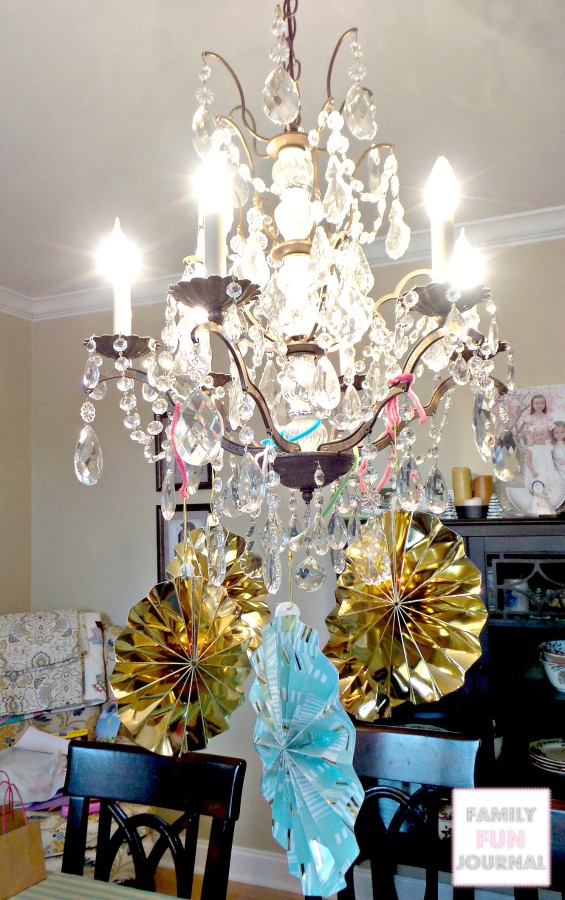 I found most of my party supplies in the Target Dollar Spot section. For the tablecloth, I used rolls of overlapping wrapping paper. For the labels, I used gift tags. I purchased containers and buckets for the gifts and activities. I also found the ribbon, pencils and adhesive glow in the dark stars at Target.
We hung a Disney princess picture on the wall to add to the atmosphere of the party.
In addition, we placed two giant stuffed horses in a corner and made a princess parking area!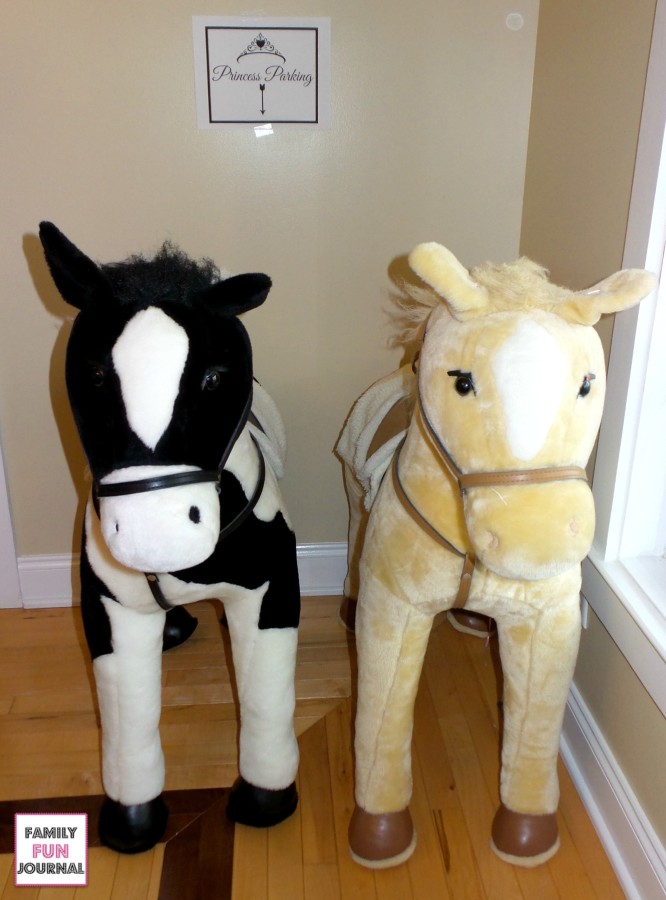 Not only did the guests have fun riding the horses, it provided a great photo backdrop.

DisneySide Princess Party Activities
Princess Dress Up Station
To me, a princess party isn't a royal event without an amazing costume. We decided to use all of our Disney princess costumes. We put the costumes on a rack with shoes, wands, crowns and jewelry.
We decorated the rack with pink lights and created an amazing Disney Princess party dress up station. We let each guest choose a costume and dress up for the party. This was the most popular part of our event.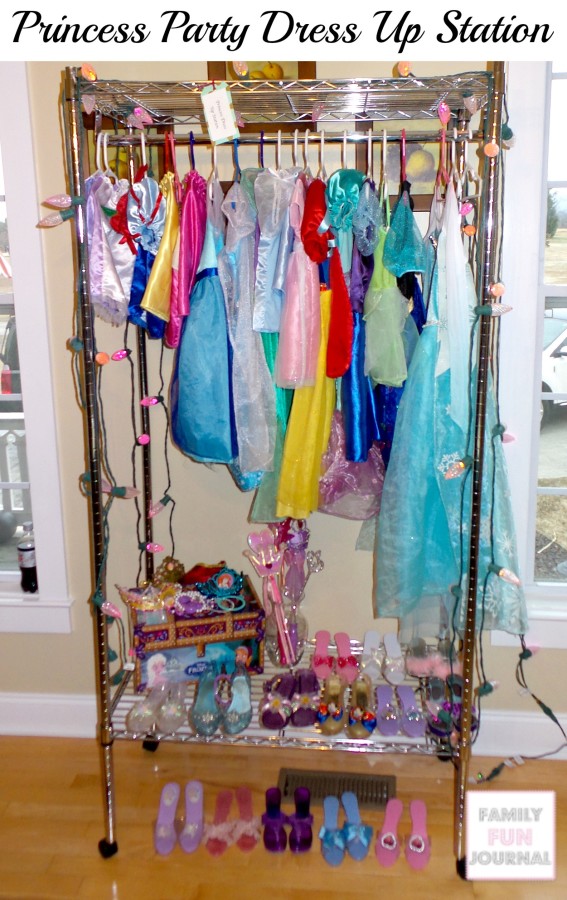 If you don't have a lot of costumes, you can ask the guests to show up wearing their favorite Disney Princess dresses.
I wanted my Disney Side @Home Celebration to feature a lot of hands on activities. I set up numerous stations featuring a several DIY activities.
Here is a breakdown of what we did during the party:
Make a Magic Wand Station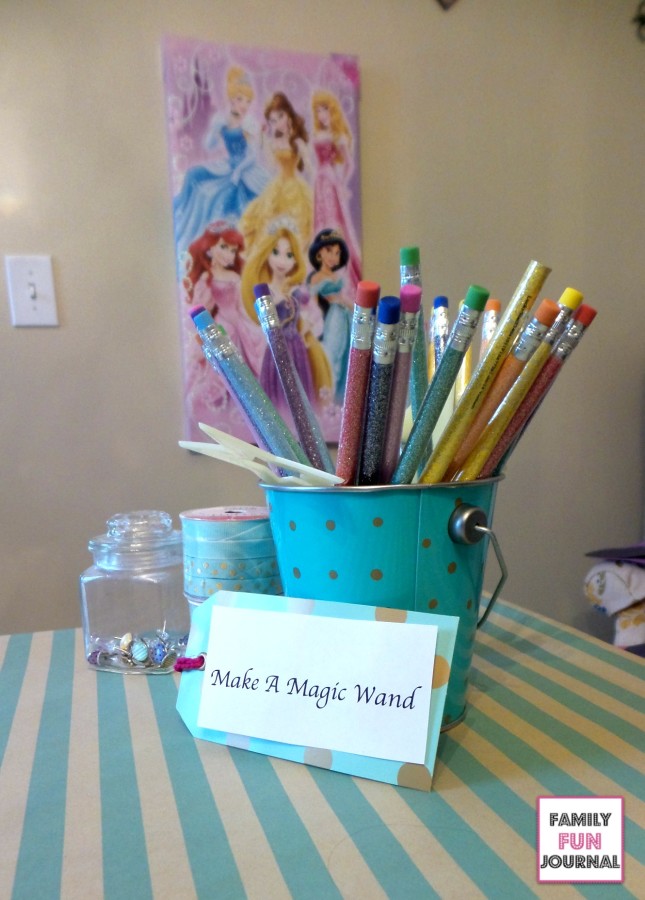 DIY Princess Wand Instructions:
The make a magic wand station was a huge hit. It was really inexpensive and easy to put together.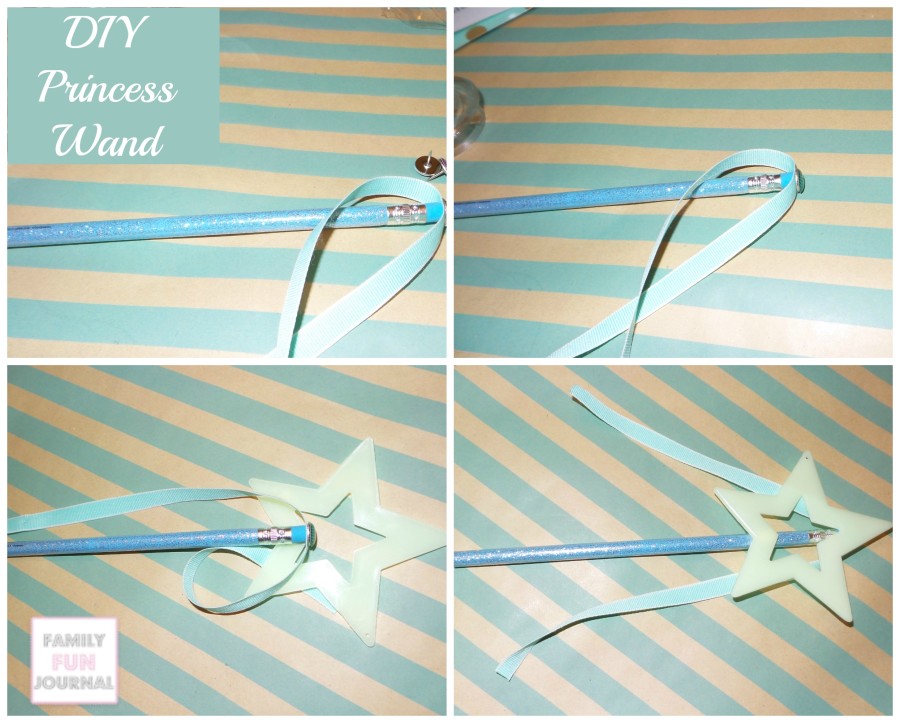 Supplies:
Glitter pencils
Thumbtacks
Ribbon
Adhesive glow in the dark stars
Scissors
Instructions:
Attach two pieces of ribbon to the top of each pencil eraser using a thumb tack.
Attach an adhesive star to the front of each eraser.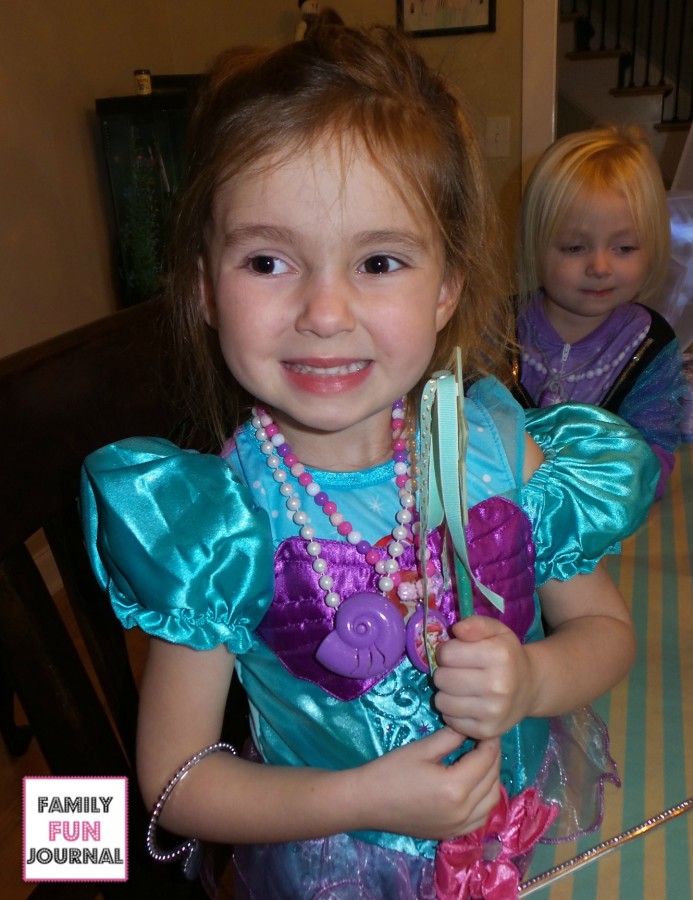 Cookie Decorating Station
All of the guests loved decorating their own cookies.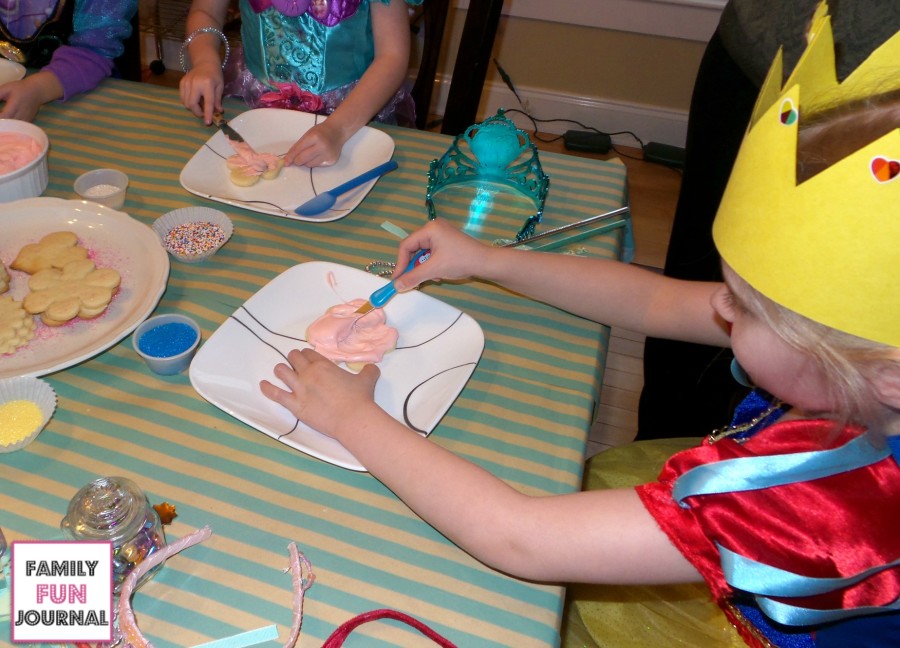 We made sugar cookies and set them out on a serving tray. To create the station, we filled containers and cupcake papers with various kinds of sprinkles. We also featured a large bowl of pink frosting.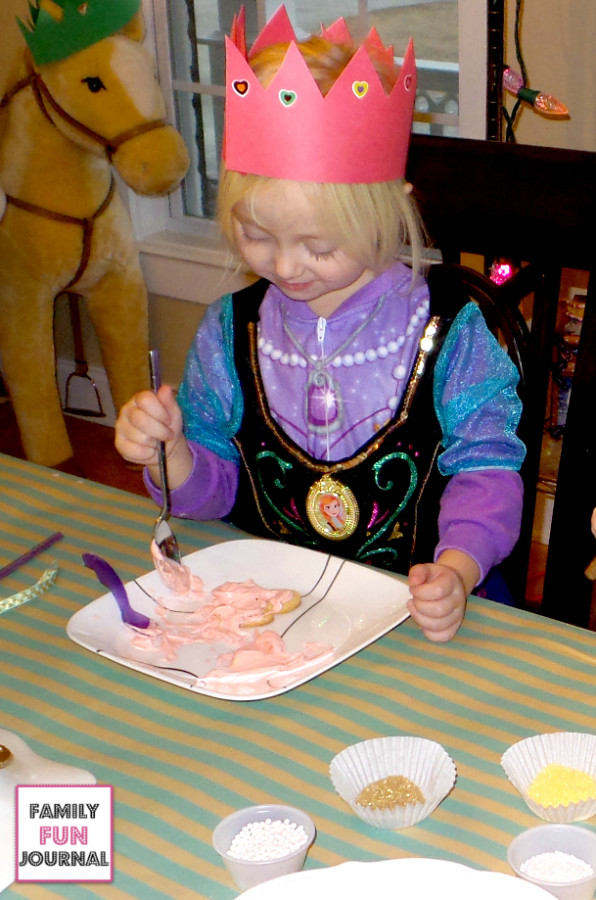 Princess Nail Salon Station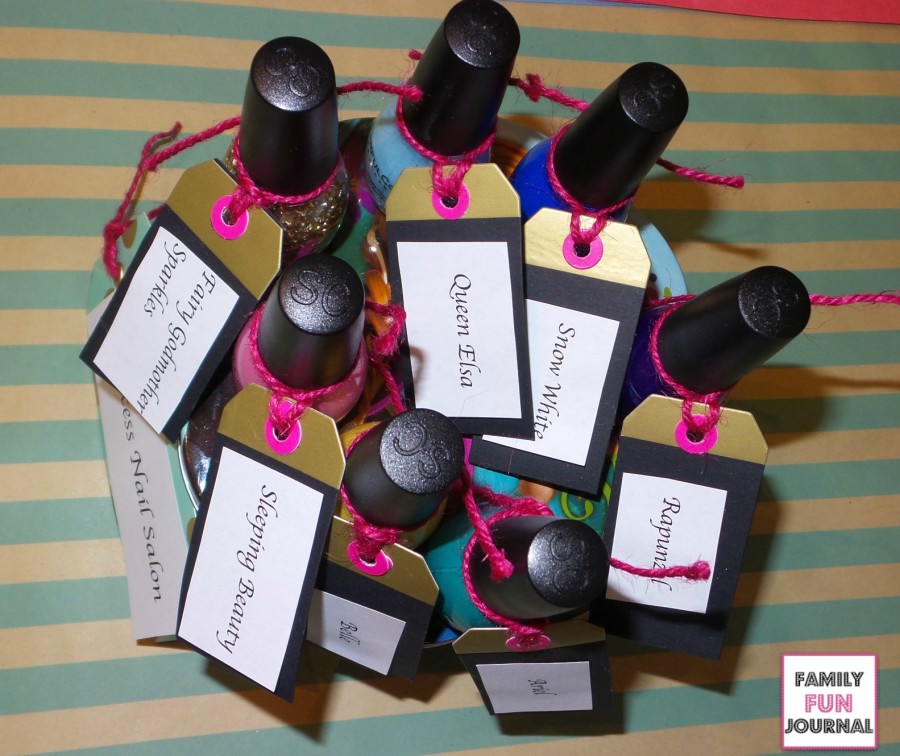 I purchased nail polish based on the colors of Disney princess outfits. I then attached labels on cute tags to each bottle. Each girl chose a princess color for her manicure.
DIY Princess Crown Station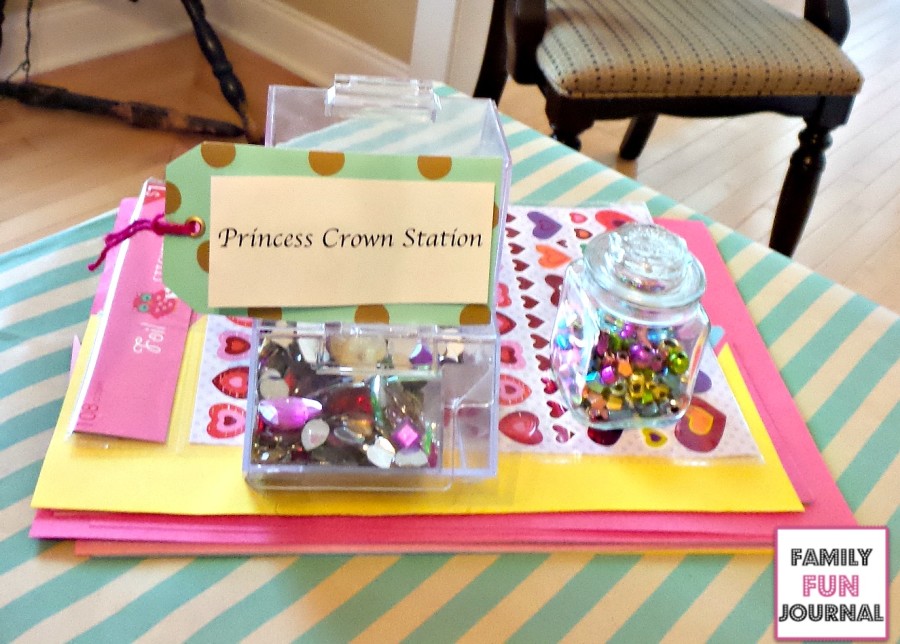 It was so easy to create a princess crown activity. Using pieces of construction paper, we cut out crowns. We then let each guest color and attach stickers and gems to her crown.
Wish Upon A Star Jar
The wish upon a star jar was a very fun activity. We decorated this station with a big light up Christmas star decoration.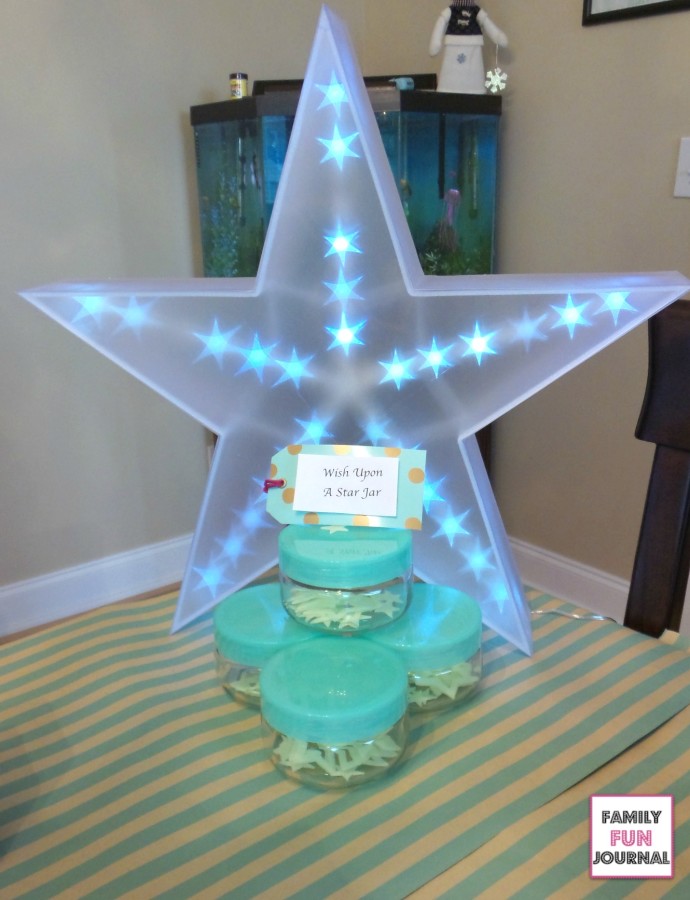 The girls loved creating their very own wishing jars. We made the jars by adding glow in the dark stars (the same type used in the magic wand activity).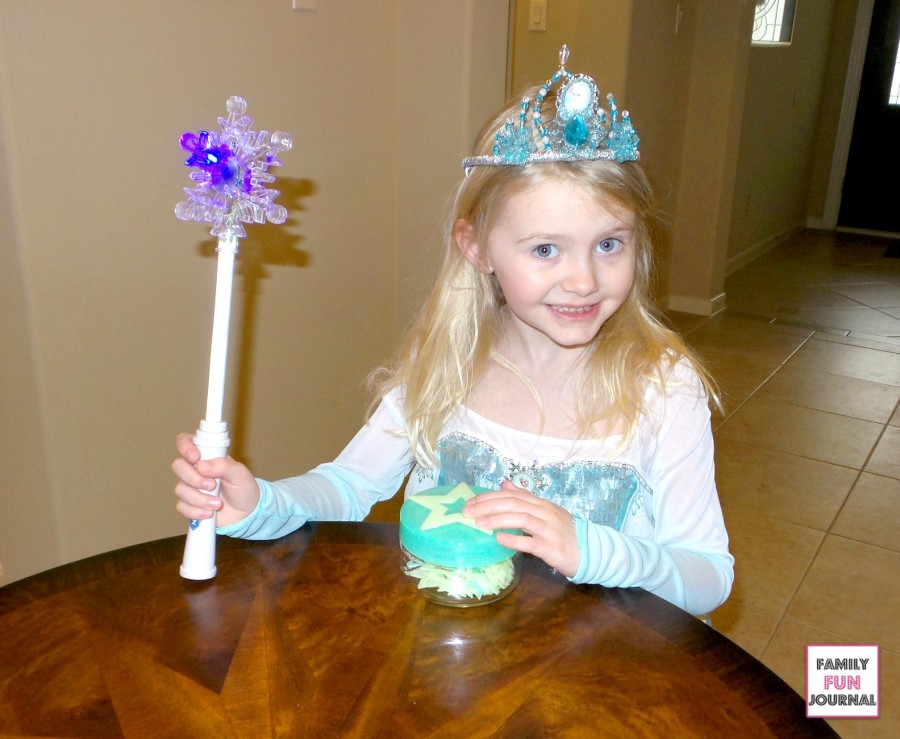 I love that when exposed to light, the stars glow. They look really cool inside the jar!
The Food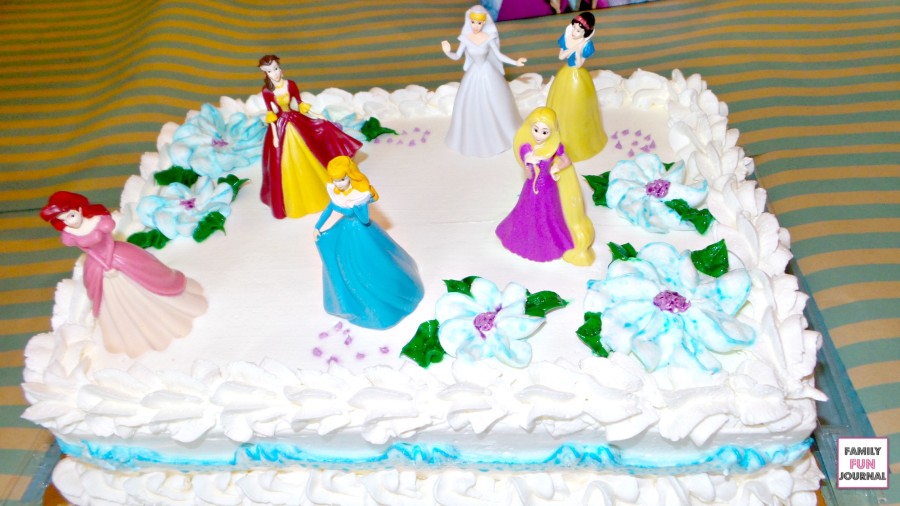 At the party, we served juice and cake. My Mom brought an ice cream cake to our event. It was decorated with flowers.
To make it fit in with our party theme, I put toy Disney princesses on top. We loved our cake! It was so adorable. I had no idea toys could make such cute cake toppers!
The Party Favors
I was given these adorable Doc McStuffins boxes. I thought they would make a perfect container for the party favors.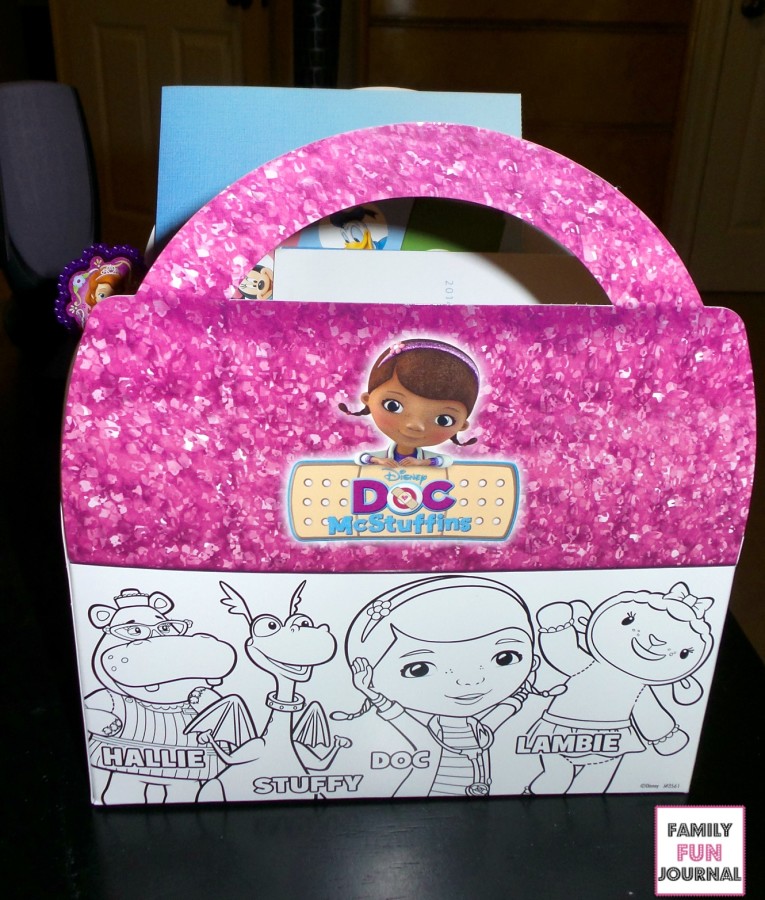 I filled it will all of the fun party favors I received inside my Disney Side box.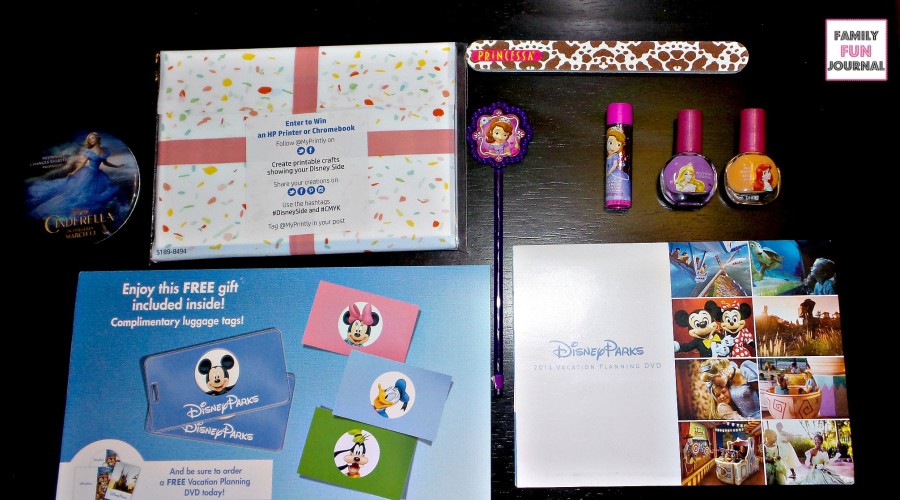 The favors included:
Cinderella movie button
HP Create Memories You Keep Pack
Sofia the First wand
Princessa Nail File
Sofia the First lip gloss
Two Disney princess nail polishes
Show Your Disney Side luggage tags
Disney Parks Vacation Planning DVD
I hope we've inspired you to show your Disney Side! You don't have to spend a lot of money to have an amazing event!
For even more fun Disney Side ideas, visit Disney Celebrations. Also, check out this Sofia the First party.
#DisneySide Disclosure: I received a complimentary party kit thanks to Disney Parks and MomSelect. All other expenses, thoughts and opinions are my own.