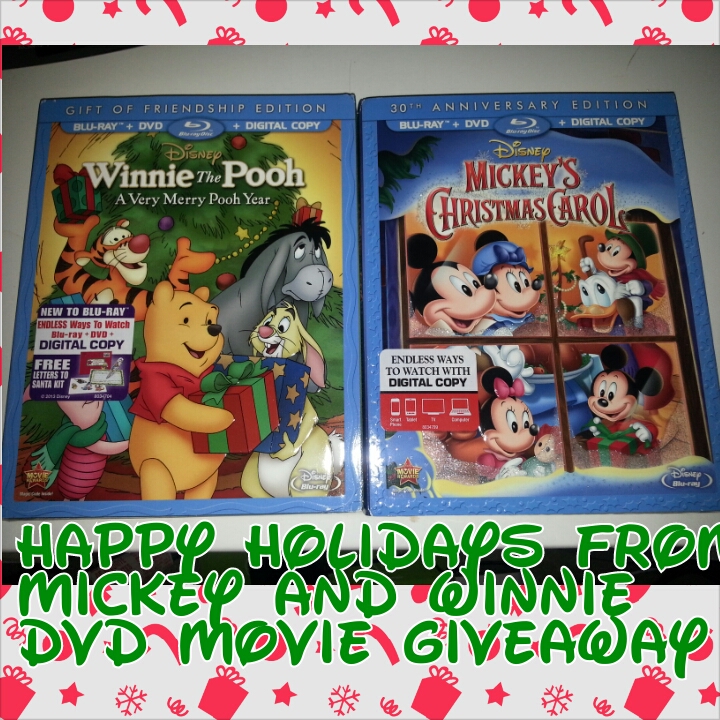 It is so much fun to watch holiday movies with your kids. The only thing that could possibly make it better, is winning copies of two holiday favorites. Thanks to Money Saving Parent for hosting this Disney holiday DVD giveaway. Check out her site for great reviews, giveaways, printables and so much more.
This giveaway is for two films. The first one is the 30th Anniversary Edition of Mickey's Christmas Carol. The second movie is the Gift of Friendship Edition of  Winnie The Pooh, A Very Merry Pooh Year.
A digital copy is included with the Mickey's Christmas Carol 30th Anniversary Special Edition DVD. There are also several bonus features including:
Yodelberg
Sing along Christmas Carols
The Hockey Camp
Pluto's Christmas Tree
The Art of Skiing
Corn Chips
Winnie the Pooh, A Very Merry Pooh Year brings all the characters from Hundred Acre Wood together for the holiday season. A digital copy and a special letters to Santa kit are included with the DVD.
These two films are the perfect way to get your family into the holiday spirit. Since one film is about Christmas and the other is about New Year's, you will have two classic films to help your family celebrate into 2014.
The value of this giveaway is approximately $50 based on the Amazon.com current price. To enter the giveaway, you have to be older than 18 years of age and have a U.S. address. The contest ends on 11/26/2013. Other terms and conditions are listed in the rafflecopter below.