Are you excited about the upcoming DVD release of Disney Descendants? On July 31, you can own a copy of this much anticipated viewing event.

The Descendants is a contemporary story about classic Disney characters featuring tweens on a journey of self-discovery.
In a present day kingdom, Beast and Belle's teenaged son is about to take the throne.
His first proclamation is to offer a chance at redemption to the offspring of Cruella de Vil, Maleficent the Evil Queen and Jafar, who have been imprisoned on a forbidden island with the other villains.
These villainous descendants (Carlos, Mal, Evie and Jay, respectively) are allowed into the kingdom to attend prep school alongside the offspring of Disney heroes, including Fairy Godmother, Sleeping Beauty, Rapunzel and Mulan.
The evil teens face a dilemma and have to decide whether to follow in the footsteps of their parents or embrace their innate goodness. This decision is not easy for these villainous descendants.
In honor of the upcoming release of this DVD, here are printable activities and a party planning kit.
To access each set of printables, click on the corresponding image.
Disney Descendants Printable Activities
These fun printables feature a variety of activities including:
Maze
Spot the difference
Magical matching game
Dots duel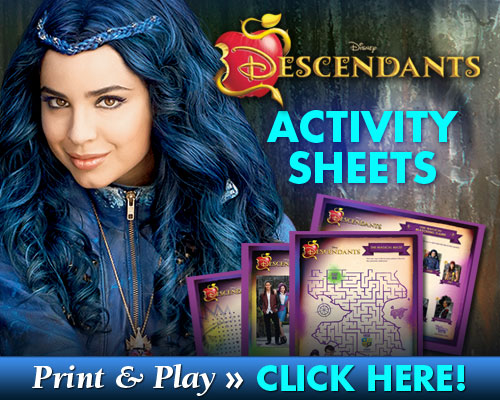 To plan your very own Disney Descendants Viewing Party, check out this kit. It is full of everything you need to have an awesome event!
Disney Descendants Party Planning Kit
Here are the great printables included in this party planning kit:
Invitations
Decorations
Menu cards
Treat toppers
Magic mirror stickpics