This post contains affiliate links.
Ceiling fans. Love them or hate them, most of us cant live without them. See how I decorated this  otherwise ordinary ceiling fan for under $10.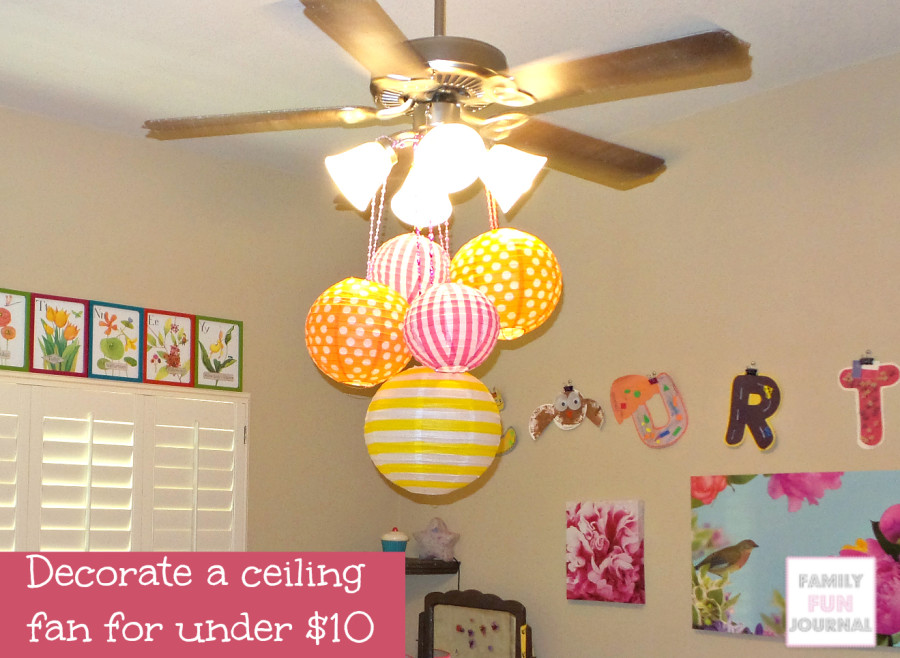 Ceiling fans are great. Most of the time, however, they are pretty unattractive. I would love to take down all of my ceiling fans and hang beautiful light fixtures. But…I just wouldn't be able to live without my ceiling fans during the hot summer months.
If you read this site, you know that I love to decorate light fixtures. So, I figured I could also decorate ceiling fans, right?
I decided to dress up the ceiling fan in my daughter's room.
I found adorable paper lanterns
 on sale at Target in a wide variety of colors and patterns. The lanterns came three to a package in a small, medium and large size. I found mine in the party supply section of the store.
I didn't want to use ordinary string or ribbon to hang the ceiling fans. So, I decided to search my house to see what I could use to hang the lanterns.
I found the answer in my daughter's jewelry box. If you have a daughter, I am sure you have plenty of plastic bead necklaces
. Seriously, I don't know why we have so many. I can't remember ever buying a single plastic necklace. Somehow, though, we keep adding to the collection.
I found beaded necklaces in a variety of lengths and colors. I decided to use different lengths to give the lanterns a staggered look.
Once I assembled the lanterns, I strung a necklace around each light and hung the lanterns at various levels.
This was such an easy and inexpensive project. My daughter absolutely loves her lanterns. It really adds a fun element to her room. I love that my eye is attracted to the lanterns instead of the ceiling fan.
I hope I've inspired you to decorate your ceiling fans!
You can use the leftover lanterns to create simple Easter decorations for a light fixture.