I received this DVD to facilitate this review. All thoughts and opinions are my own.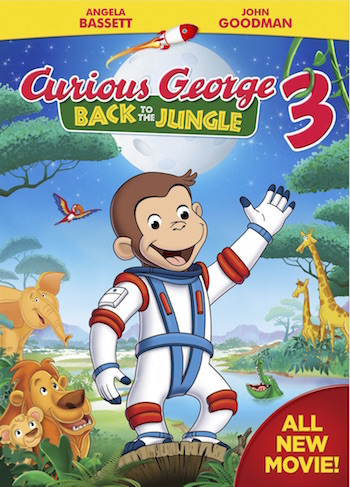 If you want a great animated film, perfect for a fun family movie night, check out Curious George 3 Back To The Jungle. This film is available on June 23 on DVD and Digital HD.
Curious George is asked to participate in a special space mission! Can you believe it?
The Man with the Yellow Hat is hesitant to allow George to embark on this dangerous space mission. However, George makes it through all of the space training with flying colors. So, he gets ready to head off into space.
Of course, knowing George, things don't go exactly as planned….
As always, Curious George finds himself in a little bit of trouble. When George encounters problems in space, he ends up crash landing in Africa!
After George goes missing, his friend, the Man with the Yellow Hat, begins to search for him. In the meantime, Curious George makes the best of his situation by exploring the jungle and meeting new animal friends.
When the Man with the Yellow Hat and George are finally reunited, they set off on an amazing adventure together.
In addition to the film, the DVD features a super fun sing-along. Here is a clip:
We loved this movie. My daughter loves Curious George and she really enjoyed watching this adventure. We had a fun family movie night and watched this film together. It was a blast!
This DVD is available from Universal 1440 Entertainment, a production entity of Universal Pictures Home Entertainment. It features the voice talents of Angela Bassett, John Goodman, Frank Welker, Jeff Bennett and Alexander Polinsky. It features the music of the Plain White T's.
The soundtrack will be available on June 23, 2015, on Back Lot Music.
In celebration of the release of Curious George 3 Back To The Jungle, here are several fun printable activities!
Curious George 3 Back To The Jungle Printable Activities

Curious George Photo App
For even more fun, let Curious George photo bomb your favorite pic! Visit photowithgeorge.com for more information.