I have to warn you, these creepy Halloween cupcakes are kind of gross looking, but oh-so much fun!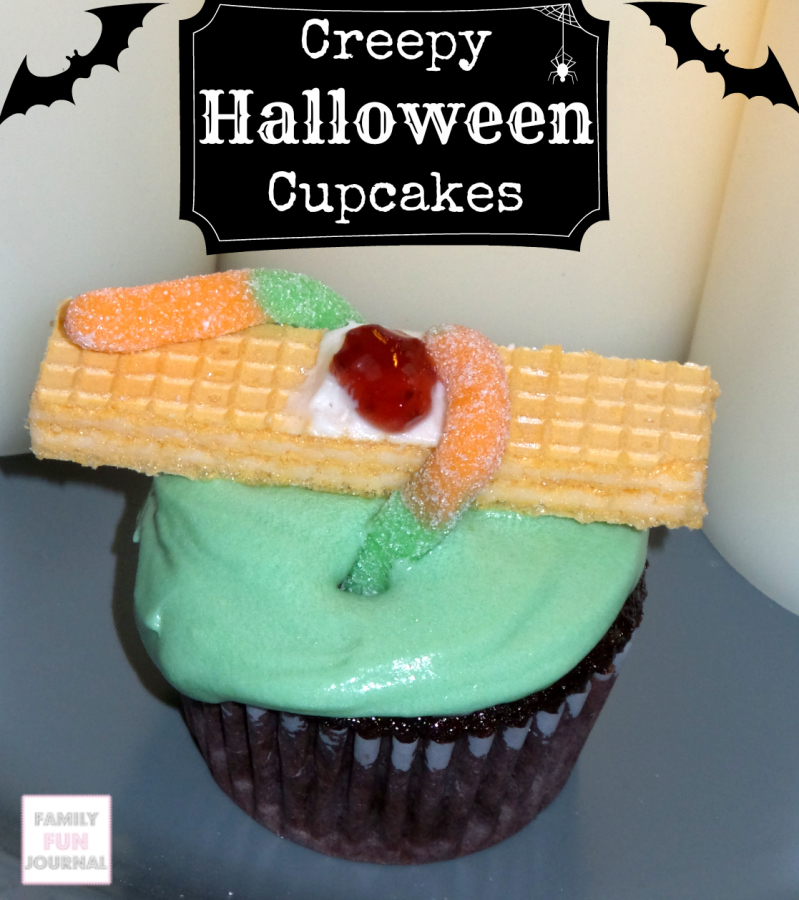 The other day, I worked on a post about Doc McStuffins birthday party ideas.  As I was putting together my Doc McStuffins Band-aid cupcakes, I thought I could easily make them work for Halloween.
How did I turn an adorable cupcake into something kind of creepy?
Well, if your kids are anything like my daughter, they are already talking nonstop about Halloween. My daughter cannot wait to go trick or treating and wear her costume. We've already put a few Halloween decorations up in our house.
So, I definitely have Halloween on the brain. The result: we spent a fun afternoon creating our super creepy treats.
My daughter LOVES the way these Halloween cupcakes turned out. She really, really, really had fun putting these cupcakes together (her exact words).
Seriously, I think most kids would love to bake cupcakes, ice them green and make yucky band-aids covered in gummy worms. I have to admit, I enjoyed making them too.
Your kids will love making these super creepy Halloween cupcakes. You can use any kind of cake mix and basic white frosting. You can even use canned frosting, as long as you tint it green.
Creepy Halloween Cupcakes
Creepy Halloween Cupcakes
Ingredients
Box of cake mix
Cupcake papers
Wafer cookies
White frosting
Green frosting
Gummy worms
Strawberry jam
Instructions
Use the green frosting to make a smooth layer on top of each cupcake.
Make a square of white icing on top of each wafer cookie.
Put a small spot of strawberry jam on top of the icing square.
Place the "band-aid" cookie on top of each cupcake.
Stick gummy worms into the cupcake and pose on top of the band-aid.
I hope you enjoy these super creepy Halloween cupcakes!