You wont believe how easy and inexpensive it is to create your very own play grocery store. Your kids will have so much fun playing with their very own grocery store.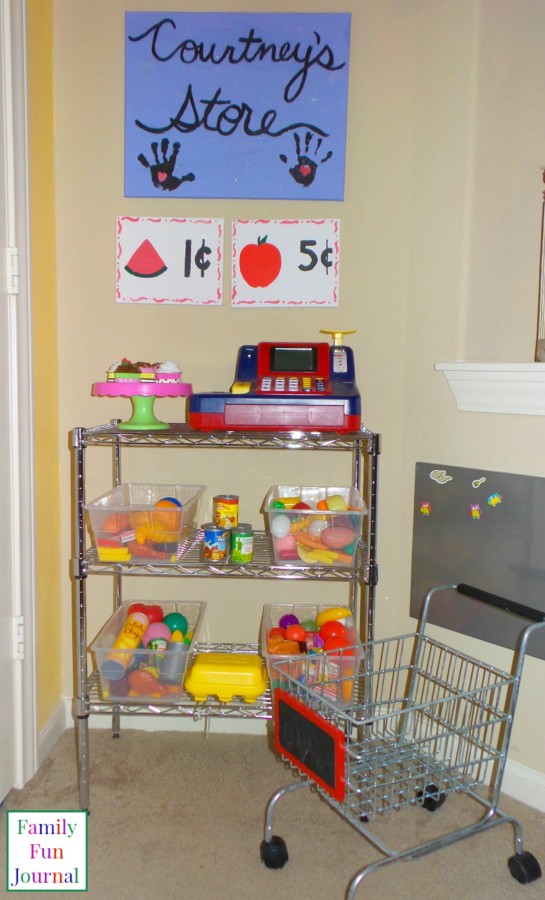 (This post contains affiliate links)
Get ready to channel your inner Martha Stewart because this project is a good thing….
Im an avid DIYer. I know that most of you are too. There is something so satisfying about putting something together yourself instead of buying it at a store. Trust me, I do plenty of buying…but, sometimes it is fun to make something yourself.
By putting together your own play grocery store, you can tailor it to fit in a certain space and to your child's preferences.
My daughter's bedroom doesnt have a lot of extra room. The only available space for the play grocery store was behind her door.
So, I had to find a narrow play grocery store that would in the space. Not only were all of the grocery store I found online too big, they were also pretty expensive. As a result, I decided to make one myself.
Play Grocery Store Instructions
Components:
Wire rack/shelving
Plastic storage containers
Paints
Canvases
Glitter
Instructions:
Assemble the wire rack
Place the toy food in the storage containers on the shelves.
Arrange the rest of the toy food on the shelves.
Place the cash register on top.
Paint the canvases with a store name (we used my daughter's name) and create advertisements.
While the paint is wet, sprinkle with glitter.
Allow to to dry.
Hang the canvases above the metal shelves.
This project is really easy. I already owned the metal rack, storage containers, toy food and the canvases. As a result, this project cost me very little money.
I did purchase the toy cash register . I chose this model because because you can use pretend and real money with it. I love that it counts the money out loud.
Im sure your kids already have plenty of toy food that you could use in the play grocery store. If you don't want to use the storage containers, you could just arrange the food on the shelves.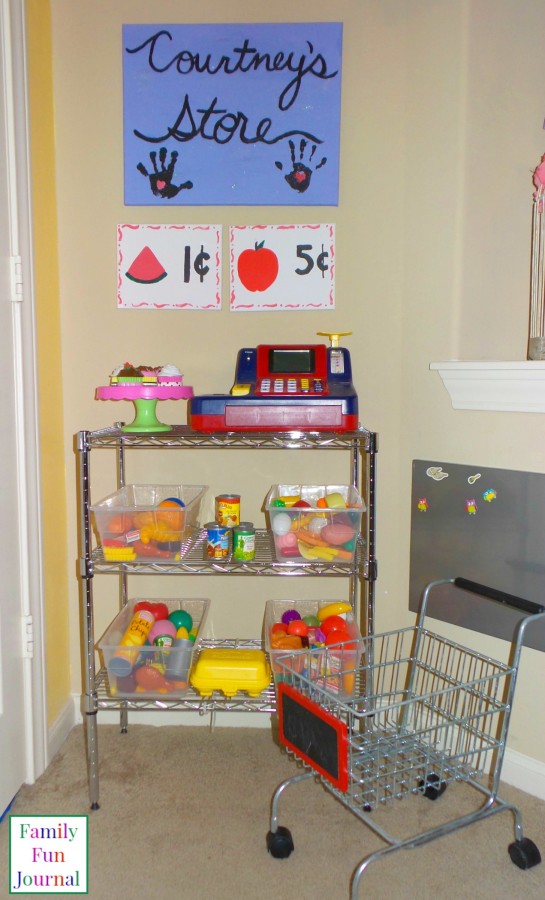 My daughter spends hours playing with her grocery store. I hope I've inspired you to make your own play grocery store!