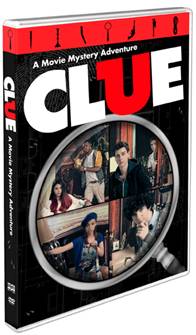 I received a copy of Clue: A Movie Mystery Adventure to facilitate this review. All thoughts and opinions are my own.
If your teen loves mysteries, they will enjoy the new film, Clue: A Movie Mystery Adventure. Shout! Factory Kids, in collaboration with Hasbro Studios released this family movie mystery adventure.
I'm a huge of the original Clue film. I used to watch it a lot when I was younger. I would have LOVED to watch a version of the film geared toward a younger audience.
I also always enjoy playing the Clue board game. It is so much fun to play it with friends and/or family. I was excited to learn that this film was inspired by my one of my favorite board games.
I thought the movie was entertaining. I was impressed by the intricate mysteries the group of teens had to solve during the film.
The movie focuses on six teenagers, each with his/her own unique personality. At the beginning of the film, they don't have very much in common.
Dimitri, Liz, Lucas, Agnes, Seamus and Whitney are at a hotel when they witness a dramatic, mysterious event. When they report the incident, no one believes them. So,they set out to find out what really happened. The teens work through their differences and come together to decipher clues and solve the mystery.
This movie is full of adventure and twists. There is even hidden treasure, a secret society and a cypher. As the teens work together, they learn that they can succeed. They also realize that they do, in fact, have a lot in common.
This film is written by Raven Metzner (Elektra, Daybreak, Six Degrees) and stars Sterling Beaumon (Lost), Sarah Desjardins (Endangered), Kendall Amyre Ferguson, Ana Golja (Degrassi: The Next Generation), Stephan James (Degrassi: The Next Generation) and Zach Mills (Super 8).
Clue: A Movie Mystery Adventure will have you solving puzzles along with the characters until the final revelation!
This film is available on DVD now.