This #HeroesEatMMs #shop has been compensated by #CollectiveBias, Inc. and its advertiser. All opinions are mine alone.
I created these super fun cupcakes featuring the Captain America shield made out of M&M's. Read below to find out how I did it!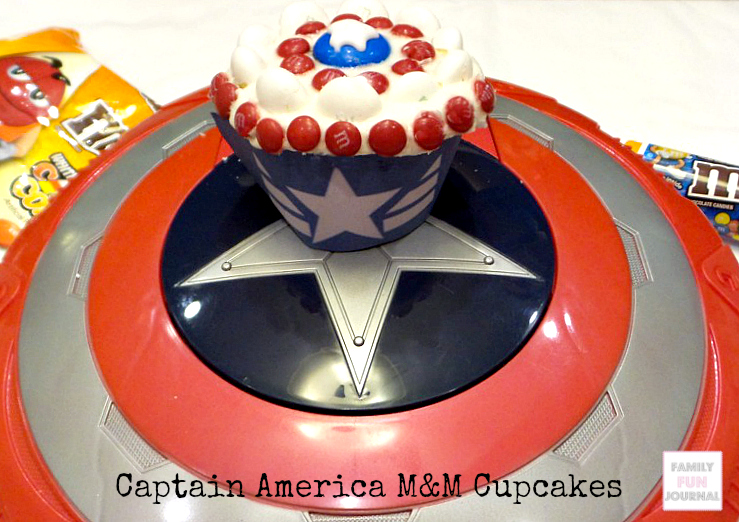 Have you seen the amazing Captain America 2:  The Winter Soldier movie? We saw it in the theaters and absolutely loved it! Speaking of movie theaters, whenever I go to see a film, I always eat M&Ms. They are my favorite movie theater treat.
During our last trip to Walmart, I was so excited to see the displays set up for the release of this DVD.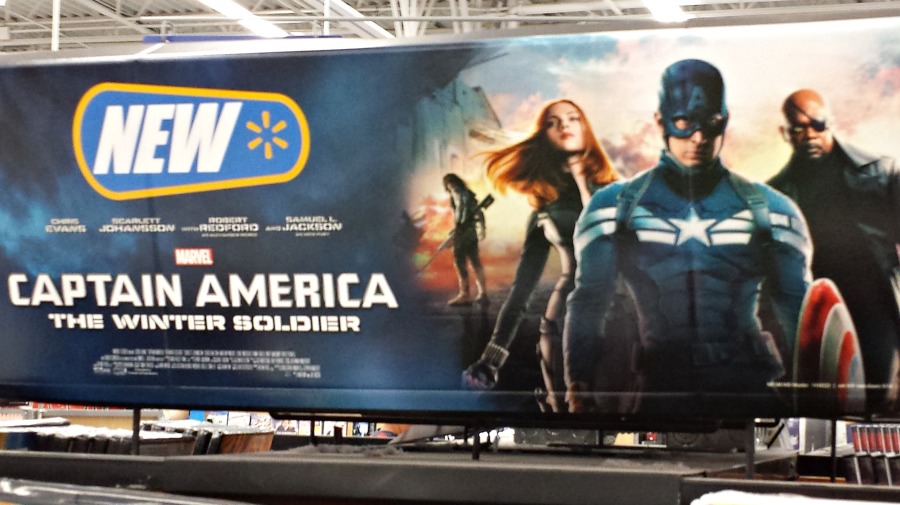 Even though I saw the film in a movie theater, I cannot wait to watch it in my very own living room. In order to have a great movie night, I wanted to make an amazing Captain America themed treat. Since I love M&M's, I decided to use them in my dessert.
While at Walmart, I picked up a few bags of M&Ms. They were really easy to find in my store. They were in the seasonal section. The sign even had candy on it.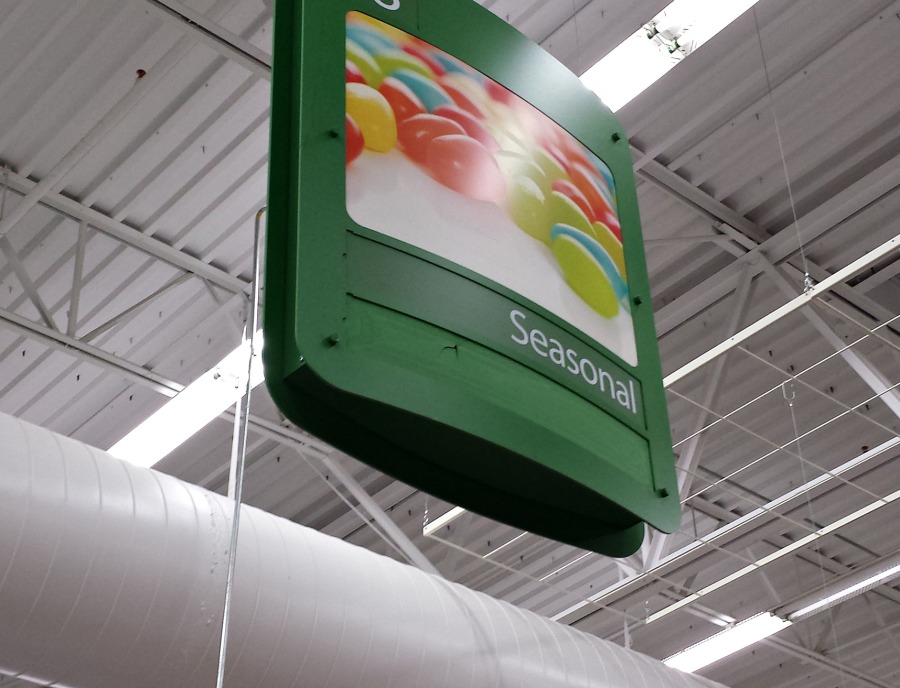 There were so many M&M flavor options. The shelves were lined with a wide variety of M&M's featuring different flavors, sizes and colors.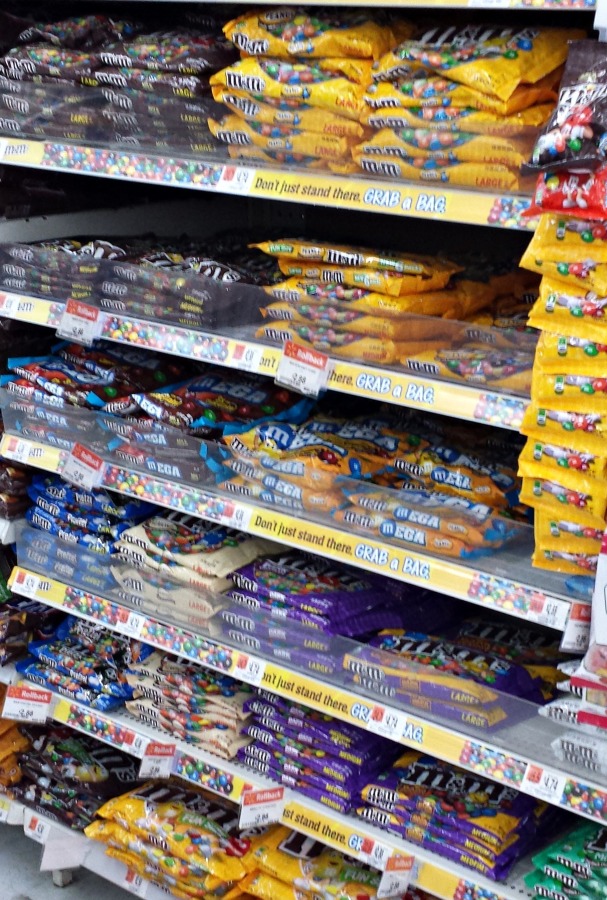 I decided to buy the white chocolate candy corn M&M's, M&M's mega and mini M&M's. I was really excited to find out that there is a great M&M's coupon available for Walmart. You can find it here.
In celebration of the release of Captain America 2: The Winter Soldier DVD, I decided to make fun cupcakes featuring a super special decoration. I created Captain America's shield out of M&M's.
I have to admit, when I started this project, I thought it would be a fun activity for my daughter. However, my husband and I joined in. We had so much fun creating the shields out of M&M's.
Captain America M&M Cupcakes
Supplies:
Box of cake mix
Cupcake papers
White frosting
Bag of white chocolate candy corn flavored M&M's
Mini red M&M's
Bag of M&M's Mega
Captain America cupcake wrappers (see printable below).
Instructions:
Step One:  Wrap the cupcake in the Captain America wrapper (printable below) and frost the top with a smooth layer of frosting.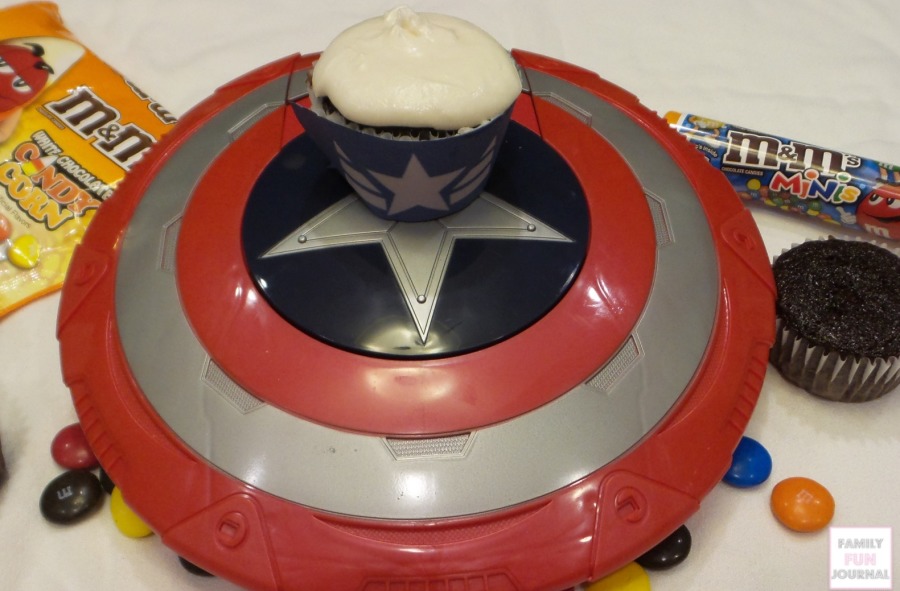 Step 2:  Place a mega blue M&M in the center of the cupcake.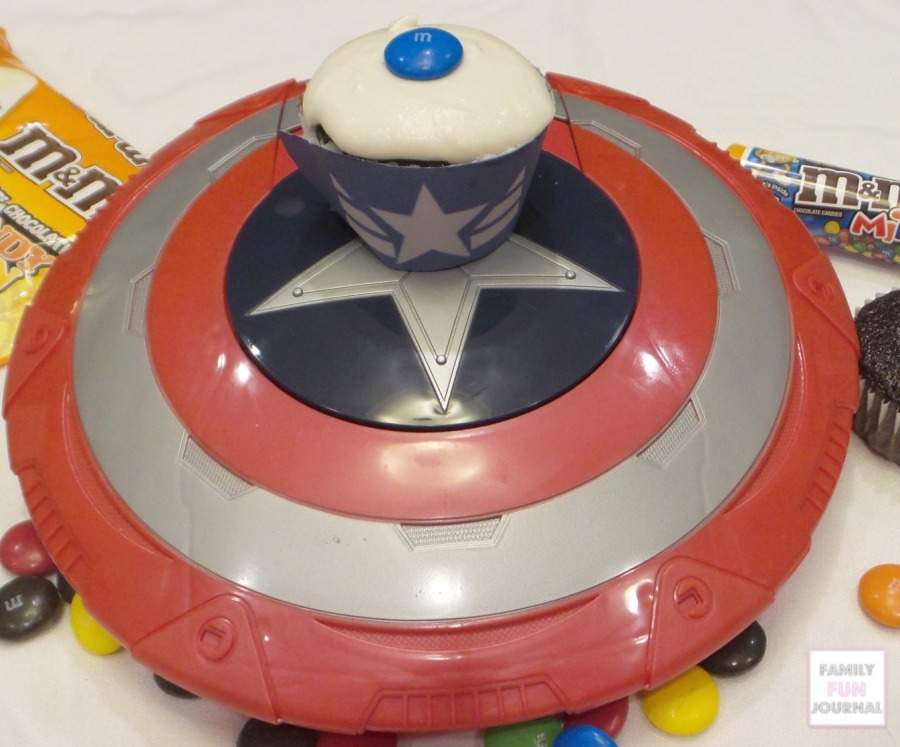 Step 3:  Using white frosting, make a star in the center of the blue M&M.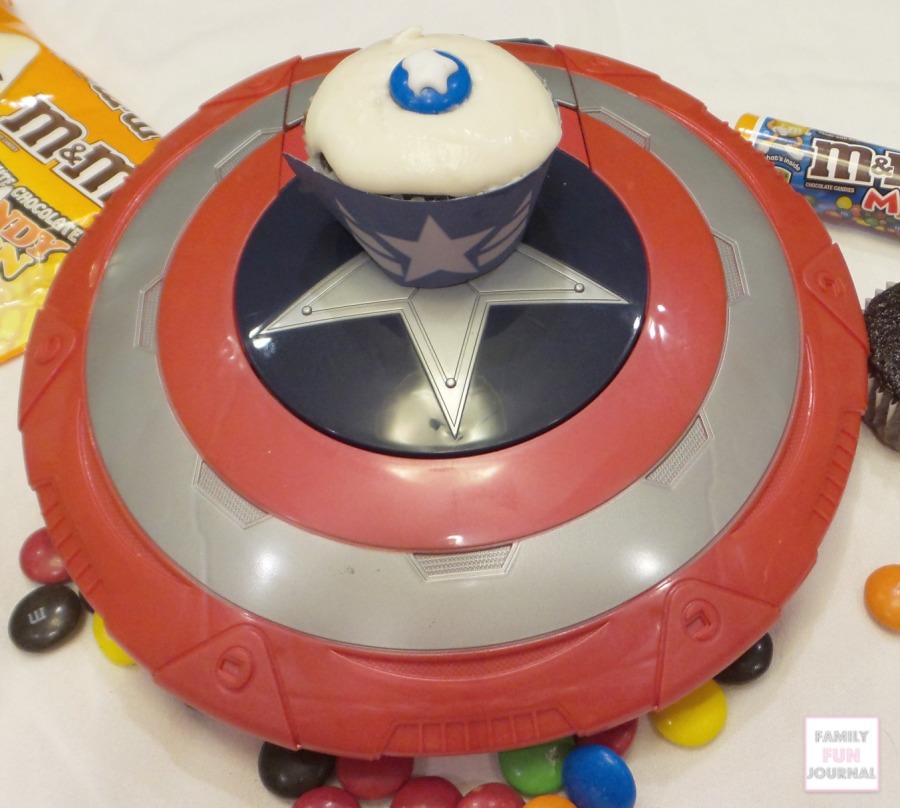 Step Four:  Create a red ring of M&M's around the blue M&M.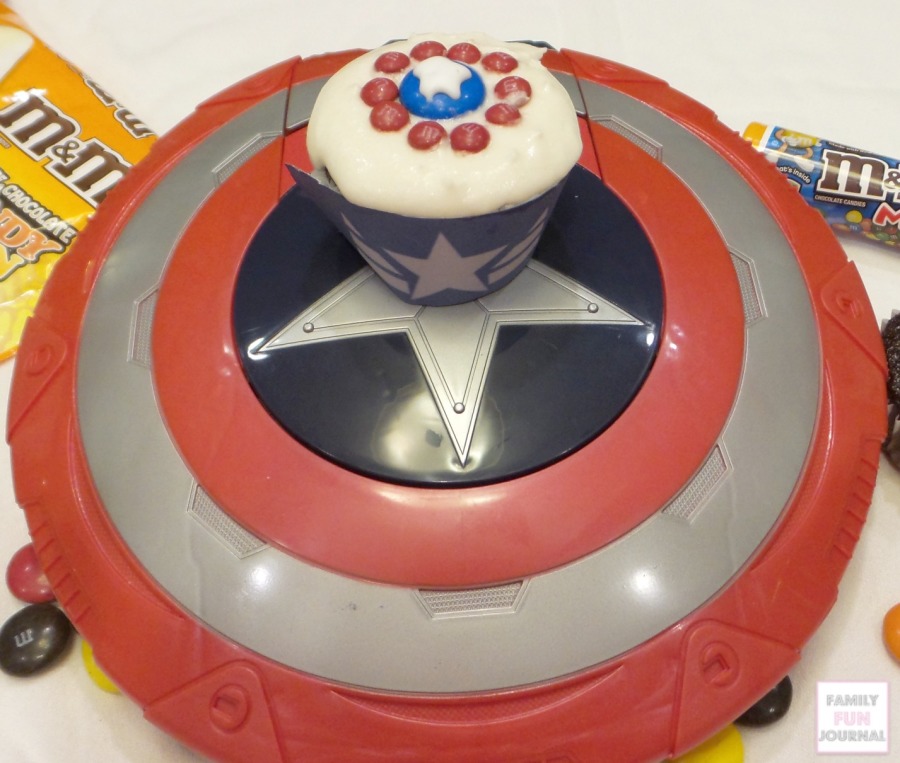 Step Five:  Create a white ring of M&M's around the red.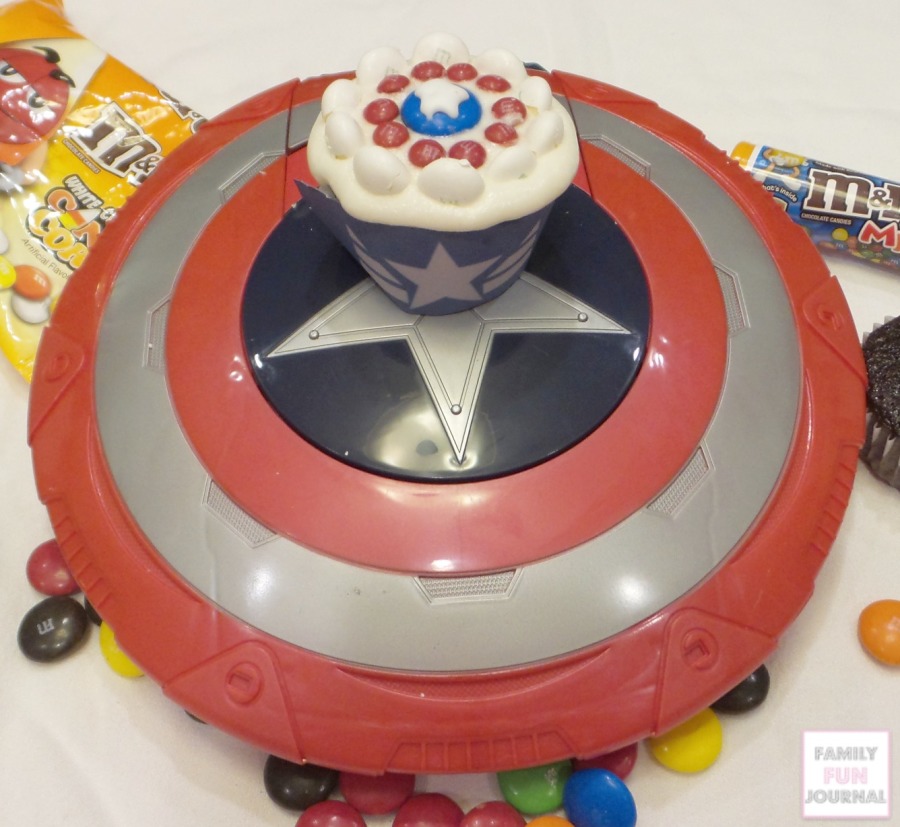 Step Six:  Create a final red ring of M&M's.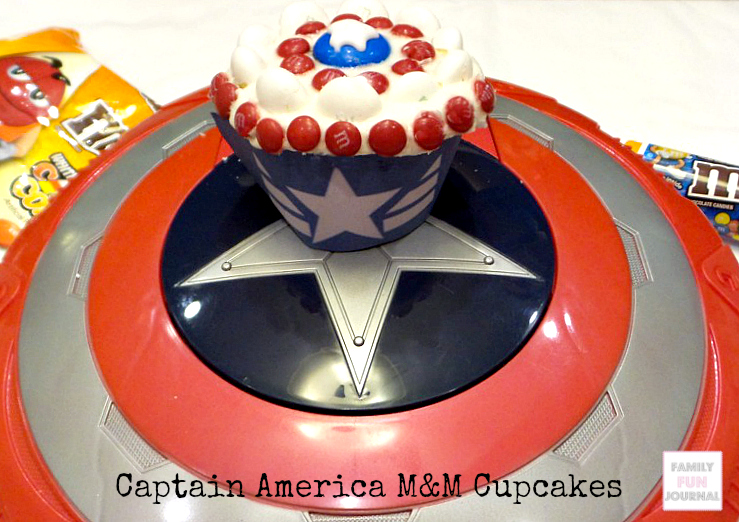 For even more fun, visit this Captain America M&M Web destination.
Captain America printable cupcake wrappers